»
Episode Guide
» Viewing Episode: ぶきみな雨宿り!ニャスパーは見ていた!!/The Eerie Rain Shelter! Nyasper Saw Everything!!
21 Jan 2014 10:46 PM

Admin Staff


Joined: 12 Jul 2007
Forum Posts: 1031


Satoshi and friends enters an uninhabited house to seek shelter from the rain... But then the doors start closing on their own, creepy cries are heard, and lots of strange phenomena happen to them!!

Also, we are now taking votes for the Pokémon poll via the d-button

Summary:

As Satoshi and friends continue their journey, they enter a mansion they find on their way to seek shelter from the rain. Shortly after, the Rocket Gang likewise enters it to get shelter. The mansion doesn't seem to have any people in it, but strange phenomena are taking place, like the lights turning on and the doors slamming shut on their own. Despite being frightened by these things, both Satoshi and friends and the Rocket Gang continue further into the mansion. And then a mysterious shadow...

We are taking your votes!

The Pokémon to be given out with the pre-order ticket for the double feature "The Cocoon of Destruction/Pikachu, What Kind of Keys Are These?", which premieres Saturday July 19th, will be decided by you guys! Press the button on your remote controls and vote for your favorite Pokémon! (Voting requires an Internet connection)

Voice Cast:

Rica Matsumoto: Satoshi

Ikue Ohtani: Pikachu

Mayuki Makiguchi: Serena

Yuki Kaji: Citron

Mariya Ise: Eureka

Megumi Sato: Dedenne

Megumi Hayashibara: Musashi

Shinichiro Miki: Kojiro

Inuko Inuyama: Nyarth

Kenta Miyake: Maaiika

Kiyono Yasuno: Nyasper

Miyoko Shoji: Lisa

Minako Kotobuki: Ellie

Unsho Ishizuka: Narration

This post was last edited 04 Feb 2014 04:56 PM by Adamant
Picture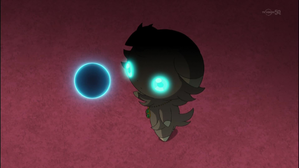 You must be signed in to rate episodes.
Average Rating:
10.00
VHS/DVD/Blu-ray Availability
Titles
| | | |
| --- | --- | --- |
| | Seeking Shelter from the Storm! | 2014-04-19 |
| | À l'abri de l'orage! | 2014-05-09 |
| | Schutz for dem Sturm! | 2014-05-15 |
| | Un Riparo Dalle Intemperie! | 2014-05-09 |
| | ぶきみな雨宿り!ニャスパーは見ていた!! | 2014-01-30 |
| | Bukimi na amayadori! Nyasper wa mite ita!! | 2014-01-30 |
| | The Eerie Rain Shelter! Nyasper Saw Everything!! | 2014-01-30 |
| | 음침한 저택의 기이한 사건! 냐스퍼는 보고 있다! | 2014-03-31 |
| | På leting etter ly for Stormen! | |
| | À Procura de Abrigo da Tempestade! | 2015-03-19 |
| | Buscando Abrigo da Tempestade! | 2015-03-19 |
| | ¡Refugiándose de la tormenta! | 2014-06-15 |
| | ¡Buscando refugio de la tormenta! | 2015-03-19 |
| | Att söka skydd mot stormen! | 2014-07-13 |
©2002-2020 PocketMonsters.net
Version 5.1779
Rendered in: 0.01614s Queries: 9
Pokémon, all assorted characters, images and audio are ©GAME FREAK, Nintendo, Creatures, TV Tokyo, ShoPro and The Pokémon Company.
All images, text and audio are used in an editorial context. No site content, information, translations, news, images or otherwise may be reposted to any website without expression permission from the staff.
Current logos by: Juno