»
Episode Guide
»Viewing Episode: デデンネがピチューでピチューがデデンネで…!?/Dedenne is Pichu and Pichu is Dedenne...!?
05 Feb 2014 12:45 AM

Admin Staff


Joined:12 Jul 2007
Forum Posts:1056


Dedenne is always with Eureka, sitting inside her pochette... or at least it's supposed to, but without anyone noticing, it's switched places with a Pichu they've never seen before!! Where in the world did Dedenne go!?

Summary:

Satoshi and his friends stop by a Pokémon Center for a rest. By a freak coincidence, Eureka and a girl who's also at the center end up switching pochettes. Both of them had a Pokémon in their pochette; Eureka had Dedenne, and the girl had a Pichu. Satoshi and friends start searching for Dedenne and the Pichu's Trainer, knowing nothing more about her than the fact that she's a girl wearing a big red ribbon on her head. Will Eureka manage to find Dedenne!?

Voice Cast:

Rica Matsumoto: Satoshi

Ikue Ohtani: Pikachu

Mayuki Makiguchi: Serena

Yuki Kaji: Citron

Mariya Ise: Eureka

Megumi Sato: Dedenne

Megumi Hayashibara: Fokko

Hitomi Nabatame: Harimaron

Kiyono Yasuno: Pichu

Chinatsu Akasaki: Joy

Saki Fujita: Lim

Chika Anzai: Lenna

Kan Tanaka: Man

Unsho Ishizuka: Narration

This post was last edited13 Feb 2014 05:31 AM byAdamant
Picture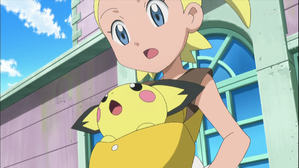 You must be signed in to rate episodes.
Average Rating:
VHS/DVD/Blu-ray Availability
Titles
| | | |
| --- | --- | --- |
| | En chokerende forveksling | |
| | Een schokkende wisseltruc! | |
| | A Jolting Switcheroo! | 2014-05-03 |
| | Sähköinen sekaannus! | |
| | Un échange électrique ! | 2014-05-12 |
| | Eine Verwechslung mit Folgen! | 2014-05-22 |
| | Uno scambio elettrizzante! | 2014-05-13 |
| | デデンネがピチューでピチューがデデンネで…!? | 2014-02-13 |
| | Dedenne ga Pichu de Pichu ga Dedenne de...!? | 2014-02-13 |
| | Dedenne is Pichu and Pichu is Dedenne...!? | 2014-02-13 |
| | 데덴네가 피츄로! 피츄가 데덴네로…!? | 2014-04-01 |
| | En sjokkerende ombytting! | |
| | Uma Troca Eletrizante! | 2015-03-23 |
| | Uma Troca Eletrizante! | 2015-03-23 |
| | Неразбериха с сумками! | |
| | ¡Un intercambio electrizante! | 2014-06-22 |
| | ¡Un electrizante intercambio! | 2015-03-23 |
| | En omskakande förväxling! | 2014-07-27 |
Credits
| | | | |
| --- | --- | --- | --- |
| | Animation Director | 志村泉 (IzumiShimura) | |
| | Episode Director | 末田宜史 (YoshifumiSueda) | |
| | Screenplay | 面出明美 (AkemiOmode) | |
| | Storyboard | 末田宜史 (YoshifumiSueda) | |
| | Voice Actor | 松本梨香 (RicaMatsumoto) | サトシ |
| | Assistant Animation Director | 松永香苗 (KanaeMatsunaga) | |
©2002-2020 PocketMonsters.net
Version 5.1779
Rendered in:0.0197s Queries:9
Pokémon, all assorted characters, images and audio are ©GAME FREAK, Nintendo, Creatures, TV Tokyo, ShoPro and The Pokémon Company.
All images, text and audio are used in an editorial context. No site content, information, translations, news, images or otherwise may be reposted to any website without expression permission from the staff.
Current logos by: Juno