»
Episode Guide
» Viewing Episode: 開幕!ポケモンコンテスト・グランドフェスティバル!!/Begin! Pokémon Contest - Grand Festival!!
Ash and co. have finally arrived at the Indigo Plateau. This place brings back memories for Ash and Brock since Ash battled here at the Pokémon League. Now it is May's turn to battle. She is very confident that she will win the Grand Festival. May runs down towards the Indigo Plateau.

Jessie is on screen explaining the Grand Festival. She is being filmed by James, Meowth, and Wobbuffet. Meanwhile, May is at the registration desk for the Grand Festival. Outside are many coordinators preparing for tomorrow's contest. When Jessie is done, Lillian comes up to her and congratulates her for her speech. Jessie is happy that Lillian liked her performance. Jessie asks James for some water. When James refuses to get her water, Jessie makes a big argument about it. Eventually, James comes back with some water for Jessie. Jessie quickly drinks the glass of water. Even though Jessie is doing this for money, she still imagines herself being a star.

May has given her mom a call hoping that she would be able to watch May in her contest. Unfortunately, May's mom and dad are both busy, so they won't be able to come. However, May's mom will be cheering for her at home. Ash and Brock tells May's mom that they will be cheering for May, and Max agrees to cheer for her too. When they hang up, they see an Aipom stealing peoples' hats. Ash recognizes the Aipom as the same one that stole his hat from before. The Aipom has a many hats on its head. The hats fall on Ash. Then the Aipom steals Ash's hat and runs away. Nurse Joy walks out. The Aipom jumps and steals Nurse Joy's hat too. Pikachu and Brock chase after the Aipom. Pikachu dives for the Aipom, but the Aipom jumps out of the way. Then the Aipom places Nurse Joy's hat on Brock's head.

Drew walks up and tells Roselia to use Petal Dance. Then a woman tells her Slowbro to use Psychic. This prevents Aipom from running. Aipom is dropped in Ash's arms. Ash takes his hat back and tells Aipom to calm down. Aipom jumps out of Ash's arms and runs away. Drew walks up to them. Ash thanks Drew for helping him. May asks Drew if he is nervous, but Drew says that he is not. The same woman walks up to them. Brock immediately recognizes her. The woman's name is Solidad, and she recognizes Brock too from the Pewter City gym. Ash, May, and Brock are surprised that she knows Brock. She excuses Brock for the moment so that she can talk to Drew. Drew and Solidad also know each other. They compliment on each other's Pokémon, and then Drew walks away. Before Drew leaves, he tells May that Solidad is tough. Solidad introduces herself to May.

Ash and co. walk outside and sit at a table. May is surprised that Drew never told her about Solidad before. Brock thinks he and Solidad should exchange email addresses, and Max pulls Brock away. Solidad explains that she first met Drew at his first contest. She was Drew's opponent in the final round. Solidad managed to win though. She says that Drew and Roselia are a great team. Because Drew lost the contest, he has worked harder. Drew and Solidad often stay in touch because they see each other in contests a lot. Meanwhile, a man in a black cloak encounters Brock and Max. He gives them something and tells them to give it to May. May wonders what Solidad and Drew talk about. She tells May that they talk about other coordinators. Drew has mentioned May before. Solidad thinks that Drew has feelings for May because they both are big rivals. May doesn't think she is as good as Drew. Because of that, Solidad thinks that May needs to have more confidence.

Max and Brock walk up to May, and they give her a black rose. Max says that a weird man told them to give it to her. The rose pops and springs come out. Max thinks that it might have been a trick from Harley since he also is in the Grand Festival.

The next day, the Grand Festival is about to begin. Lillian makes her introduction on stage. She states that the winner will receive a trophy. The trophy is shown on stage. Then Lillian introduces the three judges. She also introduces a special guest judge, Vivian, Lillian's sister. The peliminary round is about to begin. Three other Nurse Joys walk onto the stage. They will be the mini judges for the peliminaries. Lillian explains that with their scores and the judges' scores, only sixty-four coordinators will return the next day. The final person is Jessie who makes the crowd go wild. The contest begins.

A series of trainers show off their Pokémon including Rapidash, Goldeen, Venusaur, Tropius, Remoraid, Pichu, Mantine, Jigglypuff, Tyrogue, and Salamence. Then May is next. She sends out Combusken. May throws a frisbee in the air, and Combusken hits it with its Sky Uppercut attack. Drew and Solidad are watching May's performance. Solidad can understand why Drew is a bit worried. The crowd cheers for May. The next coordinator is Solidad. She uses Lapras. Lapras makes a big splash in the water and then freezes it with a Sheer Cold attack. May admires Lapras and Solidad. Drew says that Lapras has been with Solidad for a very long time. May asks Drew if he really did cry back when Solidad beat him. Drew tells her that he was just nervous back then.

Next up is Drew. He sends out Masquerain. Masquerain uses Silver Wind. The crowd appears to like Drew's performance. Solidad thinks that Drew could've done better since his performance was a bit bland. The next coordinator is Harley. He is the one with the black cloak Max and Brock met before. Harley takes off his cloak and reveals himself. He is dressed up as May. Ash and co. are shocked to see this. Max thinks that Harley may have a crush on his sister. May, on the other hand, is too embarrassed. Solidad states that Harley was her old buddy and that she still really likes Harley. Harley sends out Banette. Banette uses Will-O-Wisp to finish its peformance.

Now that all the coordinators have performed, the judges comment everyone. The sixty-four coordinators with the top scores are then displayed on the big screen. They will move onto the second round. Solidad, Drew, Harley, and May all made it to the second round.

The day is just about to end. May gives Combusken a bowl of food and thanks it for doing a great job. Solidad hopes she gets to be May's opponent in the second round. May hopes so too. Then Harley calls out for May and runs towards her. May asks Harley why he is dressed up like her. Harley asks her if she likes it. May says that she has a headache. Harley believes that he will win the Grand Festival. Drew walks up to them too. Harley says that Drew will also lose. Ash thinks the contest will be a lot of fun. Suddenly, Aipom jumps out and steals Ash's hat again. Ash and Pikachu chase after Aipom.

The next day, the second round begins. Drew is up and he sends out Absol. May wonders if that is Drew's newest Pokémon. Who will win the Grand Festival? Stay tuned...

Picture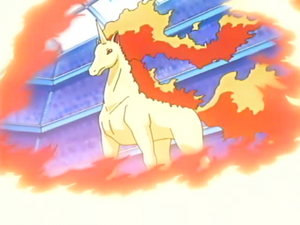 You must be signed in to rate episodes.
Average Rating:
8.40
VHS/DVD/Blu-ray Availability
Titles
| | | |
| --- | --- | --- |
| | 開幕!神奇寶貝華麗大賽大型慶典! | |
| | May, Sig Goddag Til Mayley | 2009-01-24 |
| | Wat Moet Je Daar Nou, May! | |
| | May, We Harley Drew'd Ya | 2006-12-11 |
| | Flora, Harley et compagnie... | |
| | Zeigs ihnen, Maike! | |
| | Vera, Facciamo il Tifo per Te! | |
| | 開幕!ポケモンコンテスト・グランドフェスティバル!! | 2006-06-15 |
| | Kaimaku! Pokémon Contest - Grand Festival!! | 2006-06-15 |
| | Begin! Pokémon Contest - Grand Festival!! | 2006-06-15 |
| | Harley og Drew velger May. | 2009-06-22 |
| | A Grande Competição da May! | |
| | May, Nós Estamos Torcendo por Você | 2007-11-03 |
| | ¡Aura Contra Harley y Drew! | |
| | May Contra Drew y Harley | |
| | Maj, vi har lite problem! | 2009-03-07 |
Credits
| | | | |
| --- | --- | --- | --- |
| | Animation Director | 柳昇希 (Shōki Yanagi) | |
| | Episode Director | 石川敏浩 (Toshihiro Ishigawa) | |
| | Screenplay | 冨岡淳広 (Atsuhiro Tomioka) | |
| | Storyboard | 浅田裕二 (Yūji Asada) | |
©2002-2020 PocketMonsters.net
Version 5.1779
Rendered in: 0.01601s Queries: 6
Pokémon, all assorted characters, images and audio are ©GAME FREAK, Nintendo, Creatures, TV Tokyo, ShoPro and The Pokémon Company.
All images, text and audio are used in an editorial context. No site content, information, translations, news, images or otherwise may be reposted to any website without expression permission from the staff.
Current logos by: Juno