»
Episode Guide
»Viewing Episode: 史上最強のペリッパー現る!!/The Strongest Pelipper in History Shows Up!!
17 Nov 2015 10:08 AM

Admin Staff


Joined:12 Jul 2007
Forum Posts:1056


Summary:

During their journey, Satoshi and his friends find what claims to be an unofficial Pokémon Gym "with the world's strongest Pokémon". It catches the group's interest, despite them doubting the words "world's strongest". When they knock on the door to the Gym, a boy named Antony and the "Water Bird Pokémon" Pelipper come out. Satoshi immediately initiates a battle, but the "Water type" Pelipper has both "Grass type" moves and "Fire type" moves come out of its mouth!! Kimori and Subame get defeated in rapid succession by this outlandish variation of moves. Pikachu somehow manages to cause a draw, taking a lot of damage in the process, and Satoshi takes the three Pokémon to the Pokémon Center for treatment.

Meanwhile, when the Rocket Gang attempt to steal Pelipper, having heard about it being the world's strongest Pokémon, they accidentally end up exposing the secret behind its protean moves. Taking the opportunity to make money off it, they...

But just what

is

the secret behind the world's strongest Pokémon?

Voice Cast:

Rica Matsumoto: Satoshi

Ikue Ohtani: Pikachu

Yuji Ueda: Takeshi

KAORI: Haruka

Fushigi Yamada: Masato

Megumi Hayashibara: Musashi

Shinichiro Miki: Kojiro

Inuko Inuyama: Nyarth

Yuriko Yamaguchi: Joy

Katsuyuki Konishi: Antony

Keiko Sakai: Dude

Natsuki Yoshihara: Subame

Makoto Tsumura: Pelipper

Unsho Ishizuka: Narration

This post was last edited17 Nov 2015 12:07 PM byAdamant
Picture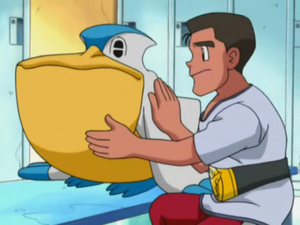 You must be signed in to rate episodes.
Average Rating:
7.33
VHS/DVD/Blu-ray Availability
Titles
| | | |
| --- | --- | --- |
| | 史上最強的大嘴鷗出現了!! | |
| | Verdens stærkeste pokémon! | |
| | Je Zei Een Mond Vol | |
| | You Said a Mouthful | 2003-12-13 |
| | Maailman vahvin Pokémon | 2005-01-27 |
| | On ne joue pas la bouche pleine | |
| | Das stärkste Pokémon der Welt | |
| | !במלא הפה | |
| | Il Pokémon più forte del mondo | |
| | 史上最強のペリッパー現る!! | 2003-01-30 |
| | Shijō saikyō no Pelipper arawaru!! | 2003-01-30 |
| | The Strongest Pelipper in History Shows Up!! | 2003-01-30 |
| | Litt av en munnfull! | 2004-06-05 |
| | Dziób pełen pokéball'i | |
| | Uma Data Deles! | |
| | Tem Bico pra Tudo | |
| | Клюв на замок | |
| | Con la boca bien llena | |
| | Un bocado peligroso | |
| | Världens starkaste Pokémon! | 2004-10-17 |
Credits
| | | | |
| --- | --- | --- | --- |
| | Animation Director | 志村泉 (IzumiShimura) | |
| | Episode Director | 鈴木敏明 (ToshiakiSuzuki) | |
| | Screenplay | 武上純希 (JunkiTakegami) | |
| | Storyboard | 秦義人 (YoshitoHata) | |
©2002-2020 PocketMonsters.net
Version 5.1779
Rendered in:0.01734s Queries:9
Pokémon, all assorted characters, images and audio are ©GAME FREAK, Nintendo, Creatures, TV Tokyo, ShoPro and The Pokémon Company.
All images, text and audio are used in an editorial context. No site content, information, translations, news, images or otherwise may be reposted to any website without expression permission from the staff.
Current logos by: Juno