»
Episode Guide
» Viewing Episode: バトルタワー!以心伝心バトル!!/Battle Tower! Telepathy Battle!!
Eyecatch
Pre-episode Message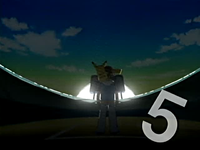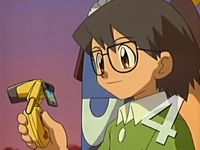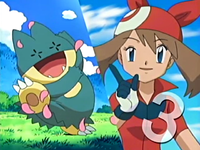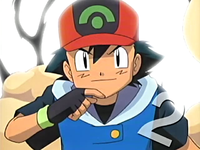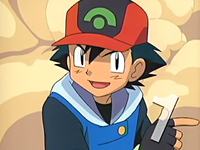 Eyecatch
Regice Eyecatch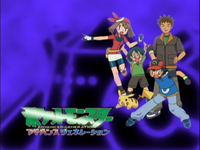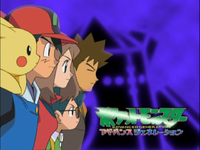 Trivia Quiz
Question Part 1
This Trivia Quiz question consists of a Pokémon-themed arithmetics game. The host first provides the viewers with an example and then proceeds to ask the question that will be answered after the next episode preview.
Hosted by
Satoshi
.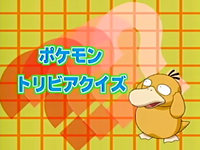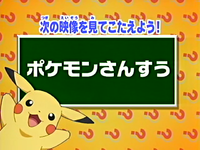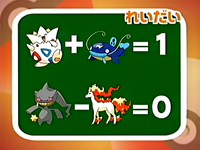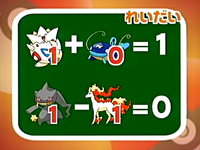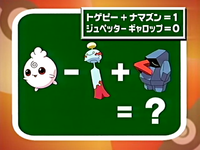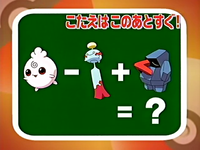 Trivia Quiz
Question Part 2
Pokémon Trivia Quiz Continuation (ポケモントリビアクイズ つづき): After the viewers are reminded of the question, a hint is given so that the viewers can find the answer more easily. In this case, they are told to pay close attention to the red-colored characters, all of which have
handakuten
on them.
Hosted by
Satoshi
.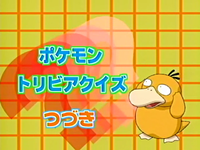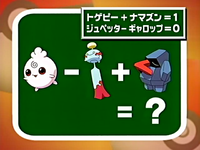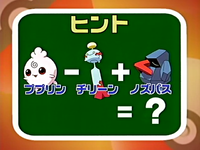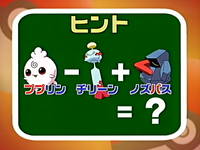 Trivia Quiz
Answer
After a 3-second countdown, the answer is revealed to be "3". The number of
handakuten
used in the Pokémon's names was what the viewers should have used in order to find out what the correct answer to this question was.
Hosted by
Satoshi
.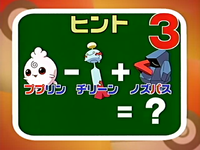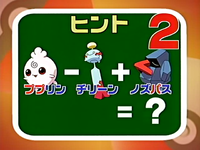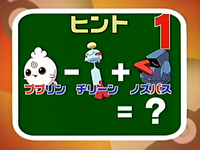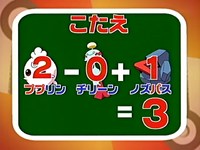 Picture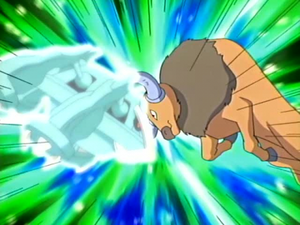 You must be signed in to rate episodes.
Average Rating:
7.44
VHS/DVD/Blu-ray Availability
Titles
| | | |
| --- | --- | --- |
| | 對戰塔!以心傳心戰鬥! | |
| | Anden Gang Er Lykkens Gang | 2008-12-06 |
| | De tweede keer is het raak! | |
| | Second Time's the Charm! | 2006-11-27 |
| | Toinen kerta toden sanoo | |
| | La revanche de Sacha | |
| | Alle guten Dinge sind zwei! | |
| | Δεύτερη και Φαρμακερή | |
| | Ritenta, sarai più Fortunato! | |
| | バトルタワー!以心伝心バトル!! | 2006-03-30 |
| | Battle Tower! Telepathy Battle!! | 2006-03-30 |
| | Alt går bedre andre gang. | 2009-06-22 |
| | À Segunda É de Vez! | |
| | O Charme da Segunda Vez! | 2007-08-18 |
| | A La Segunda Va La Vencida | |
| | La Segunda Es La Vencida | |
| | Andra gången gillt | 2009-01-04 |
Credits
| | | | |
| --- | --- | --- | --- |
| | Animation Director | 山下惠 (Megumi Yamashita) | |
| | Episode Director | 秦義人 (Yoshito Hata) | |
| | Screenplay | 米村正二 (Shōji Yonemura) | |
| | Storyboard | 須藤典彦 (Norihiko Sutō) | |
©2002-2020 PocketMonsters.net
Version 5.1778
Rendered in: 0.03005s Queries: 7
Pokémon, all assorted characters, images and audio are ©GAME FREAK, Nintendo, Creatures, TV Tokyo, ShoPro and The Pokémon Company.
All images, text and audio are used in an editorial context. No site content, information, translations, news, images or otherwise may be reposted to any website without expression permission from the staff.
Current logos by: Juno