»
Episode Guide
» Viewing Episode: バトルタワー!以心伝心バトル!!/Battle Tower! Telepathy Battle!!
Ash and co. have gone to the Pokémon Center. Nurse Joy reports to Ash that all of his Pokémon are feeling better. Scott walks up to Ash. Ash tells Scott that he wants to battle Anabel again. At first Ash was trying to win with pure power, but not he has a different way of winning. Scott tells Ash that it is fine and to come back to the Battle Tower when he is ready. Ash then asks Pikachu if it is ready for some hard training. Pikachu is excited.

Max asks Ash the new Pokémon he plans on using for his rematch. Ash tells Max that he isn't changing any of his Pokémon. He lost because he wasn't close enough to his Pokémon. Ash wants to unlock the full power out of his Pokémon. He then sends out Corphish and Tauros and Ash, Pikachu, Corphish, and Tauros have a nice run on the road. Ash sees a tree up ahead. He tells his Pokémon to attack the tree. All three Pokémon attack the tree, and a swarm of Beedrill come out. Ash forgot that a Beedrill's nest was living in the tree. The Beedrill begin to attack Ash and his Pokémon. Anabel sees Ash running towards her. She begins to run too when she sees the Beedrill chasing them. Ash, Anabel, and Ash's Pokémon fall in the lake, and the Beedrill past them.

When Ash and Anabel walk out of the lake, they are covered in seaweed. Brock, May, and Max walk up to Ash and Anabel and make sure they are alright. Ash decides to clean Tauros up a bit, and Anabel helps him. While they are cleaning up Tauros, Corphish splashes some water at Ash. Ash knows Corphish is playing around. Him and Anabel jump into the water and swim next to Corphish. Corphish begins to speak. Anabel says that Corphish is happy to be in the lake. Brock, May, and Max see Ash and Anabel having a good time together while they prepare for lunch. Max thinks it's weird that a Frontier Brain and battle challenger are hanging out together. Brock thinks it's natural since everyone is friends when they are not battling.

Team Rocket is underground. Jessie senses that Ash and co. are right above them. Meowth uses Fury Swipes to dig a hole at the top. Jessie sees a green thing. She pokes it with her shovel, and Munchlax comes falling down on them. Team Rocket pops out of the hole. The first thing they see is food. Team Rocket wants to capture Pikachu, but they want to eat first. Brock notices that Team Rocket is eating all of their food. Team Rocket says their motto while eating. Suddenly, Munchlax runs away with the table of food. This makes Team Rocket angry. Meowth presses a button and their Wobbuffet vehicle comes out. May sends out Eevee. Eevee uses Tackle on the machine. Their machine rips apart, and Team Rocket blasts off again.

May sends out Combusken. She suggests they try to talk to their Pokémon mentally just like Anabel. Ash thinks it's a good idea. Ash tells Corphish to use Harden in his head, and May tells Combusken to use Peck. Both Pokémon can't read their trainer's minds, so they don't do anything. Ash asks Anabel how she is able to talk to Pokémon mentally. Anabel isn't exactly sure herself. It all started when she talked to everything in the forest. She points to a flower and says that it is happy. All Ash sees is an ordinary flower. Brock thinks Anabel is talking about mother nature and quieting your mind. Anabel tells Brock that he is right. Ash thinks he knows what Anabel is talking about. Anabel tells Ash to sense what is in her heart. Ash can't sense a thing.

Ash and co. head down to the Battle Tower. Scott asks Ash if he is ready for his rematch. They all walk inside the building. Marin, the announcer, explains the rules of their battle. Then the battle begins. Anabel sends out Alakazam, and Ash chooses Corphish. Corphish starts off with Crabhammer. Anabel mentally tells Alakazam to use Focus Punch. Both attacks collide into each other. Corphish then fires a Bubblebeam. Alakazam counters the attack with Psybeam. After that, Corphish charges towards Alakazam using Vicegrip. Alakazam uses Psychic to stop Corphish right in its tracks. Then it throws Corphish across the battlefield. While Corphish is being thrown, it fires another Bubblebeam at Alakazam. The attack hits Alakazam. Then Alakazam uses Recover to heal itself.

Ash tells Corphish to use Crabhammer. Anabel tells Alakazam to use Focus Punch. Both Pokémon charge towards each other, but Corphish ends up hitting Alakazam. While in the air, Alakazam fires a Psybeam at Corphish. Corphish becomes confused. Ash orders Corphish to use Crabhammer. Corphish is able to attack Alakazam while it is still confused. Then Ash recalls Corphish back to eliminate its confusion. Ash sends Corphish back out. Corphish attacks Alakazam by using Bubblebeam. Alakazam is knocked out.

Anabel's next Pokémon is Metagross. Ash realizes that Corphish is way too tired out to battle up close, so he has Corphish use Bubblebeam. Anabel suspected that Ash would call out an attack like that. She tells Metagross to use Meteor Mash. Metagross takes Corphish out with one hit.

Ash sends out Tauros next. Max states that all of Tauros's normal attacks won't do much damage against a steel type like Metagross. Ash ignores Max's comment. He orders Tauros to use Take Down. Metagross protects itself with Iron Defense. Then Tauros uses Horn Attack. Metagross uses Meteor Mash, but Tauros dodges the attack and hits Metagross with its horn. Metagross flies into the air and uses Hyper Beam. Tauros dodges by using Double Team. Anabel doesn't know which is the real Tauros, so she tells Metagross to attack them all. The real one gets hit by Hyper Beam, but it is still able to keep going. Tauros then hits Metagross with another horn attack. Metagross uses Meteor Mash, and Tauros intercepts with Take Down. Both Pokémon faint from the attacks.

Finally, Anabel sends out Espeon, and Ash sends in Pikachu. May looks up Espeon in her Pokédex. Espeon is Anabel's favorite Pokémon. Ash wants to win the battle with speed. He tells Pikachu to use Quick Attack. Pikachu charges in towards Espeon. Espeon dodges the attack and then hits Pikachu with a Quick Attack of its own. Pikachu then uses Iron Tail. Espeon dodges and uses an Iron Tail of its own. Espeon's attack hits Pikachu. Brock, May, and Max are shocked at the awesome speed Espeon has. Pikachu then tries a Thunderbolt. Espeon counters with Zap Cannon. Espeon's attack moves right through Pikachu's electricity and hits Pikachu. Ash tells Pikachu to get up. Pikachu uses Thunderbolt again. This time, Espeon dodges and uses Psychic on Pikachu. Pikachu is thrown up into the air and hits the ceiling. Then Pikachu falls to the ground.

Pikachu is still able to move. It charges towards Espeon with Quick Attack. Anabel orders Espeon to watch Pikachu carefully, and then hit Pikachu with Psychic. Espeon follows Anabel's commands. It uses Psychic to bring Pikachu back up to the ceiling. Pikachu stays on the ceiling and jumps on top of a light. Pikachu uses Thunderbolt to burn out all the lights. Then it hits Espeon with another Thunderbolt. Espeon tries to hit Pikachu with Zap Cannon, but Pikachu dodges all the attacks. Now that the lights are out, Anabel can't see a thing. Pikachu hits Espeon again with Thunderbolt. Brock, May, and Max now know that Ash can win. Another plus is that Anabel can't mentally communicate with her Pokémon anymore. The lights come back on. Pikachu hits Espeon with an Iron Tail attack. To finish the battle up, Pikachu charges towards Espeon with Volt Tackle. Espeon tries to damage Pikachu by using Zap Cannon. The attack has no effect on Pikachu. Pikachu hits Espeon with Volt Tackle and Espeon faints. Ash is declared the winner.

Ash congratulates Pikachu for all of its hard work. Scott notices that Anabel was using Zap Cannon a lot. Knowing that Zap Cannon has low accuracy, Anabel must've gotten carried away. Anabel thanks Espeon. She then rewards Ash with an Ability Symbol. Scott then mentions to Ash that he has one more battle left, and that is at the Battle Pyramid. Scott has already forwarded the Pyramid's location to Max's Pokenav. Max opens up his Pokenav and finds out that the Battle Pyramid is located near Pewter City, Brock's hometown. Anabel wishes Ash the best of luck with his next Battle Frontier challenge. Then Ash and co. wave goodbye at Anabel.
Picture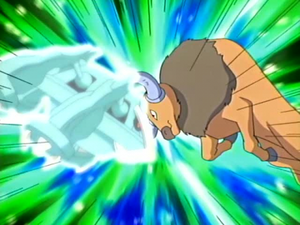 You must be signed in to rate episodes.
Average Rating:
7.44
VHS/DVD/Blu-ray Availability
Titles
| | | |
| --- | --- | --- |
| | 對戰塔!以心傳心戰鬥! | |
| | Anden Gang Er Lykkens Gang | 2008-12-06 |
| | De tweede keer is het raak! | |
| | Second Time's the Charm! | 2006-11-27 |
| | Toinen kerta toden sanoo | |
| | La revanche de Sacha | |
| | Alle guten Dinge sind zwei! | |
| | Δεύτερη και Φαρμακερή | |
| | Ritenta, sarai più Fortunato! | |
| | バトルタワー!以心伝心バトル!! | 2006-03-30 |
| | Battle Tower! Telepathy Battle!! | 2006-03-30 |
| | Alt går bedre andre gang. | 2009-06-22 |
| | À Segunda É de Vez! | |
| | O Charme da Segunda Vez! | 2007-08-18 |
| | A La Segunda Va La Vencida | |
| | La Segunda Es La Vencida | |
| | Andra gången gillt | 2009-01-04 |
Credits
| | | | |
| --- | --- | --- | --- |
| | Animation Director | 山下惠 (Megumi Yamashita) | |
| | Episode Director | 秦義人 (Yoshito Hata) | |
| | Screenplay | 米村正二 (Shōji Yonemura) | |
| | Storyboard | 須藤典彦 (Norihiko Sutō) | |
©2002-2020 PocketMonsters.net
Version 5.1778
Rendered in: 0.01915s Queries: 6
Pokémon, all assorted characters, images and audio are ©GAME FREAK, Nintendo, Creatures, TV Tokyo, ShoPro and The Pokémon Company.
All images, text and audio are used in an editorial context. No site content, information, translations, news, images or otherwise may be reposted to any website without expression permission from the staff.
Current logos by: Juno