»
Episode Guide
» Viewing Episode: ハルカVSハーリー!ダブルバトルでステージ・オン!!/Haruka VS Harley! Stage On with a Double Battle!!
Drew sends out Absol. Absol uses Flash, lighting up the whole stadium. Then Absol absorbs the light and its body sparkles. May and Solidad are amazed at Drew's Absol. Absol then uses Water Pulse. A waterfall is created in the middle of the stage. Finally, Absol uses Razor Wind to extinguish the waterfall. Jessie is recapping what happened with Drew's performance. Many people that May has met before is watching the contest on TV. Drew walks by them. Jessie asks for a few words, but Drew refuses to make a comment.

The next coordinator is Harley. He sends out Octillery. Octillery uses Fire Blast on the ground, and then in dances in the flames. Brock and Max notice that Harley's Octillery is more powerful right now then the last time they saw it. Meanwhile, Ash is outside trying to get his hat back from Aipom. Aipom is on a tree branch. Ash jumps up and down to try and get his hat back. Ash is getting tired of this. Aipom sticks out its tongue at Ash. Ash tells Pikachu to use Quick Attack. Pikachu fires its body at Aipom weakening it. Then Pikachu uses Thunderbolt to damage Aipom even more. Finally, Ash throws an empty Pokéball at Aipom. However, Aipom uses its tail to deflect the Pokéball back at Ash's face. Aipom laughs and runs away.

Solidad is on the stage. Her Slowbro is using Psychic to move across the stage on its tail. Brock notices that Solidad's Slowbro is using the whole stage to its advantage. Then Slowbro uses Water Gun. The Water Gun is formed into a spiral. May is amazed at Solidad's performance. To May, every move Solidad makes is perfect.

May is the next to perform. Ash has made it back just in time. He tells Brock and Max that he almost had Aipom captured since it was causing a lot of trouble. She sends out Munchlax. Munchlax charges up for a Solarbeam. It fires the ball of energy in the air. Then Munchlax jumps up and uses Focus Punch on the ball of energy. Sparkles of light fills the whole stadium. The judges thought May's performance was really good. Even Solidad and Harley thought May's performance was excellent.

May is very nervous since only sixteen people will make it to the next round. Ash, Brock, and Max assure May that she will make it to the next round. Solidad walks up to May to congratulate her. Suddenly, Harley runs up to May and says that there is something wrong with Drew. Drew is outside scolding at Absol for not making the Razor Wind correct back in their performance. Ash and co. walk up to Drew. May wants to know what Drew is doing. Solidad fills in by saying that the audience was mesmorized by Absol's Water Pulse attack, however Drew told Absol to use Razor Wind for its final move, and Drew felt that he had failed. Drew says that it is true and that he didn't have any passion. Then Drew returns Absol back into its Pokéball and begins to walk away. May shouts out to Drew that Absol tried its hardest out there. Drew yells at May that his other Pokémon could've done a much better job than Absol and that he isn't a wimp like May. May wonders what happened to Drew.

Solidad is having a talk with May. She says that May's performance affected Drew a lot. Ash and Brock find Drew sitting near the water. Ash sits down next to Drew. Ash talks about his rivals. Drew understands that him and May are just rivals.

The next day, the sixteen coordinators that made it in the third round are displayed on the screen. Solidad, May, Harley, and Drew all made it in the third round. Then the pictures of the coordinators are shuffled to see who will battle who. The first match is with May and Harley. May is confident for her first match.

The first match is about to begin. It will be a double battle. Lillian shows everyone the trophy before the match starts. The Grand Festival winner will be able to take the trophy home with them. May sends out Eevee and Munchlax. Harley sends out Cacturne and Wigglytuff. Wigglytuff has a bit of an evil face. This frightens Eevee and Munchlax. Aipom meets up with Ash again. Ash tells Aipom that he is too busy to mess around with it. Aipom watches the contest. Eevee and Munchlax attack, but Wigglytuff puffs up its body and absorbs Eevee and Munchlax's attacks.

Harley has another trick up his sleeve. He tells Wigglytuff to jump. Suddenly, he orders Cacturne to use Poison Sting. Wigglytuff moves out of the way, and Eevee and Munchlax are hit by Cacturne's attack. Because of Harley's Pokémon's team work, May lost a bunch of points. Then Cacturne uses Needle Arm. Eevee uses Shadow Ball towards Munchlax, and Munchlax punches the Shadow Ball at Cacturne. The Shadow Ball directly hits Cacturne. Cacturne falls to the ground and is knocked out.

Harley has lost a lot of points because of Cacturne's loss. Suddenly, Wigglytuff uses Body Slam, but Eevee and Munchlax dodge it. Wigglytuff reels Eevee and Munchlax in by using its ears. Then Wigglytuff throws the Pokémon up into the air. Wigglytuff jumps and uses Doubleslap. Both of May's Pokémon gets slapped by Wigglytuff. May loses a lot of points from this. Finally, Wigglytuff throws the Pokémon back to the ground. May isn't ready to give up. She tells Eevee to use Shadow Ball and Munchlax to use Focus Punch. Wigglytuff jumps into the air to dodge the attacks. Then Munchlax and Eevee use a series of attacks, but Wigglytuff dodges them all. Lillian mentions that Wigglytuff is a balloon Pokémon, and this gives May an idea. She tells Eevee and Munchlax to combine their attacks together. This time the attacks collide from behind Wigglytuff. Wigglytuff begins to fall. Munchlax strikes Wigglytuff with a final Focus Punch, knocking Wigglytuff out. May is the winner.

Drew and Solidad also beat their opponents making them advance to the fourth round. With the third round over, Drew and May are up against each other. May sends out Combusken and Squirtle. Drew sends out Flygon and Absol. Squirtle starts off with Rapid Spin, but Flygon counters with Sandstorm. May knew that Flygon would do that, so she tells Combusken to use Mega Kick. Combusken jumps off of Squirtle into the air and fires a kick towards Flygon. Absol jumps in and uses Flash which blinds Combusken. Then Absol uses Iron Tail on Combusken. May tells Squirtle to use Bubble and Combusken to use Sky Uppercut. Who will win the match? May or Drew...?
Picture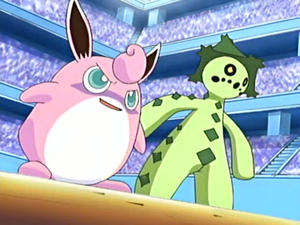 You must be signed in to rate episodes.
Average Rating:
7.55
VHS/DVD/Blu-ray Availability
Titles
| | | |
| --- | --- | --- |
| | 小遙VS哈利!用雙打比賽登上舞台吧! | |
| | Det Tynder Ud I Rækkerne | 2009-01-24 |
| | Tot het Uiterste! | |
| | Thinning the Hoard! | 2006-12-12 |
| | Haute tension | |
| | Jetzt geht's los! | |
| | Le Fila si Assottigliano | |
| | ハルカVSハーリー!ダブルバトルでステージ・オン!! | 2006-06-22 |
| | Haruka VS Harley! Double Battle de Stage On!! | 2006-06-22 |
| | Haruka VS Harley! Stage On with a Double Battle!! | 2006-06-22 |
| | Det tynnes i rekkene. | 2009-06-22 |
| | A Competição Continua! | |
| | Passando pelo Funil! | 2007-11-10 |
| | Echando El Resto | |
| | El Día Del Gran Festival | |
| | Desperat gnat | 2009-03-14 |
Credits
| | | | |
| --- | --- | --- | --- |
| | Animation Director | 山下惠 (Megumi Yamashita) | |
| | Episode Director | ながはま (Norihiko Nagahama) | |
| | Screenplay | 冨岡淳広 (Atsuhiro Tomioka) | |
| | Storyboard | 日高政光 (Masamitsu Hidaka) | |
©2002-2020 PocketMonsters.net
Version 5.1778
Rendered in: 0.02841s Queries: 6
Pokémon, all assorted characters, images and audio are ©GAME FREAK, Nintendo, Creatures, TV Tokyo, ShoPro and The Pokémon Company.
All images, text and audio are used in an editorial context. No site content, information, translations, news, images or otherwise may be reposted to any website without expression permission from the staff.
Current logos by: Juno