»
Episode Guide
»Viewing Episode: 最初のポケモン!最後の戦い!!/The First Pokemon! The Last Battle!!
Eyecatch
Pre-episode Message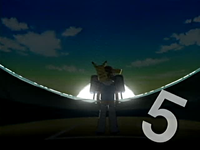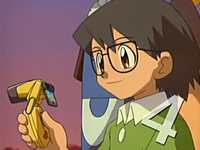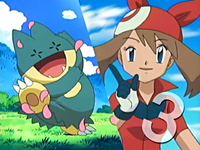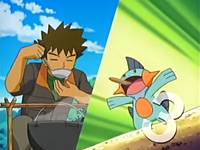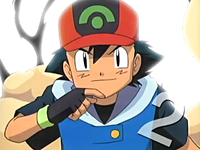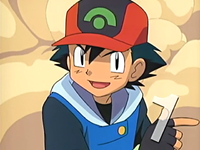 Eyecatch
Regirock Eyecatch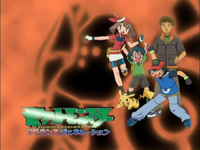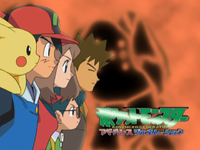 Special First-Airing Segment
Diamond and Pearl Full-Force Scoop
In this installment of the "Diamond & Pearl Full-Force Scoop", the (unofficial) Diamond & Pearl Campaign Boys, Robert, introduce more clips from the upcoming "Diamond" and "Pearl" games.

The games are set in the lush "Sinnoh Region", where one "professor Nanakamado" is the local Pokémon researcher. The first Pokémon you'll meet in the games will be the three Pokémon he'll give you.

As you journey through the region, a mysterious organization called the "Galaxy Gang" will be getting in your way - exactly what their plans are is unknown, but they're without doubt up to nothing good.

In addition to the addition of new characters and Pokémon, Pokémon battles and contests will be improved as well, and we are shown some clips of how they'll look in these games.

Baba ends the segment by saying the games will be out Thursday September 28th, and Akiyama says that's in another 35 days, so you should go swim in the sea until then. Yamamoto tells him you'd swell up for sure if you did that.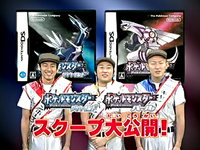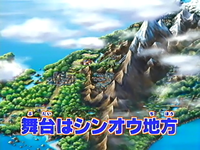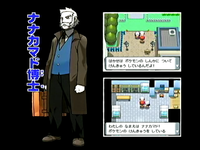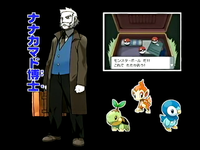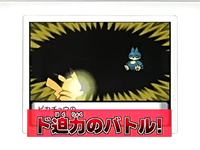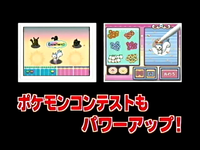 Picture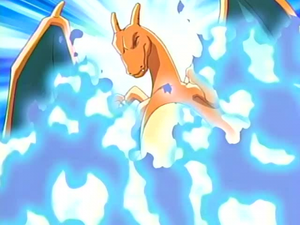 You must be signed in to rate episodes.
Average Rating:
8.31
VHS/DVD/Blu-ray Availability
Titles
| | | |
| --- | --- | --- |
| | 最初的神奇寶貝!最後的戰鬥! | |
| | Gamle venner ruster ikke! | 2009-03-07 |
| | De Groep van Vier Herenigd! | |
| | Gathering the Gang of Four | 2007-02-10 |
| | Neljän jengi kokoontuu! | |
| | Le gang des quatre ! | |
| | Alte Freunde | |
| | La banda al completo | |
| | 最初のポケモン!最後の戦い!! | 2006-08-24 |
| | The First Pokemon! The Last Battle!! | 2006-08-24 |
| | Gamle venner ruster ikke! | 2009-06-22 |
| | Juntando o Grupo dos Quatro! | |
| | Reunindo a Gangue dos Quatro! | 2008-01-12 |
| | Сборы боевой четверки | |
| | ¡La pandilla se reúne! | |
| | ¡Reuniendo a la pandilla de cuatro! | |
| | De fyras gäng! | 2009-05-16 |
Credits
| | | | |
| --- | --- | --- | --- |
| | Animation Director | 平川亜 (AkioHirakawa) | |
| | Animation Director | 市川雅也 (MasayaIchikawa) | |
| | Episode Director | 牧野行洋 (YukihiroMakino) | |
| | Screenplay | 米村正二 (ShōjiYonemura) | |
| | Storyboard | 秦義人 (YoshitoHata) | |
©2002-2020 PocketMonsters.net
Version 5.1779
Rendered in:0.02313s Queries:7
Pokémon, all assorted characters, images and audio are ©GAME FREAK, Nintendo, Creatures, TV Tokyo, ShoPro and The Pokémon Company.
All images, text and audio are used in an editorial context. No site content, information, translations, news, images or otherwise may be reposted to any website without expression permission from the staff.
Current logos by: Juno