»
Episode Guide
» Viewing Episode: グランドフェスティバル開幕! 炎と氷のアート!!/The Grand Festival Begins! The Art of Flame and Ice!!
23 Apr 2010 07:49 PM

Registered Users


Joined: 17 Apr 2010
Forum Posts: 2


This episode is killing my patience
29 Apr 2010 06:37 AM

Admin Staff


Joined: 18 Jun 2007
Forum Posts: 1712


Oh my god they killed Kenny! A good start to the Grand Festival. I'm already liking this more than the last one. It had a good pace, good music and good visuals.

It was good to see them using more unique Appeals for the Grand Festival. It is looking like it's going to be Hikari vs Naoshi for the final though.
29 Apr 2010 03:15 PM

Banned Users


Joined: 04 Apr 2009
Forum Posts: 71


So much for Kenny.

A decent first ep, Dawn looks good. Most of these rivals are forgettable, sadly. Hopefully things get more interesting and less boring when the battles begin
27 Sep 2010 11:01 AM

Admin Staff


Joined: 18 Jun 2007
Forum Posts: 1712


One major glaring error in this episode with the gym reference instead of the contest. Was interesting that they managed to keep Suziko's reference somewhat intact for this episode and it was actually quite ingenious pun for the English dub.

Meowth: Truly "remeowkable"!

Dub comparison:

http://www.pocketmonsters.net/episodes/1085#Edits
03 Aug 2011 04:29 PM

Registered Users


Joined: 21 Jul 2011
Forum Posts: 1


Wow! Amazing..... This is one of the best episode for me!
Picture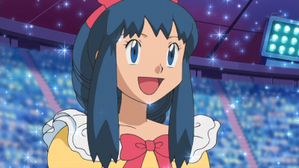 You must be signed in to rate episodes.
Average Rating:
9.12
VHS/DVD/Blu-ray Availability
Titles
| | | |
| --- | --- | --- |
| | 華麗大型慶典開幕!炎與冰的藝術!! | |
| | Poslední výzva do prvního kola! | |
| | Sidste udkald, første runde | 2011-03-08 |
| | Last Call, First Round! | 2010-09-18 |
| | グランドフェスティバル開幕! 炎と氷のアート!! | 2010-04-29 |
| | Grand Festival kaimaku! Honoo to koori no art!! | 2010-04-29 |
| | The Grand Festival Begins! The Art of Flame and Ice!! | 2010-04-29 |
| | 그랜드 페스티벌, 불꽃과 얼음의 1차심사! | 2010-11-24 |
| | Siste opprop - første runde! | 2011-03-08 |
| | A Arte do Gelo e do Fogo! | 2012-01-17 |
| | Última llamada-Primera Ronda | 2011-02-23 |
| | ¡Última llamada, Primera Ronda! | 2011-06-11 |
| | Sista utrop – första ronden! | 2011-03-05 |
Credits
| | | | |
| --- | --- | --- | --- |
| | Animation Director | 志村泉 (Izumi Shimura) | |
| | Episode Director | 大庭秀昭 (Hideaki Ōba) | |
| | Screenplay | 冨岡淳広 (Atsuhiro Tomioka) | |
| | Storyboard | まついひ (Hitoyuki Matsui) | |
©2002-2020 PocketMonsters.net
Version 5.1778
Rendered in: 0.01784s Queries: 9
Pokémon, all assorted characters, images and audio are ©GAME FREAK, Nintendo, Creatures, TV Tokyo, ShoPro and The Pokémon Company.
All images, text and audio are used in an editorial context. No site content, information, translations, news, images or otherwise may be reposted to any website without expression permission from the staff.
Current logos by: Juno