»
Episode Guide
» Viewing Episode: ソーナンスとポケモンこうかんかい!!/Sonansu and the Pokémon Trade Meet!!
03 Oct 2011 08:23 PM

Admin Staff


Joined: 18 Jun 2007
Forum Posts: 1710


The English dub needlessly changes stuff for the millionth, no 10 billionth time! If I had a Magikarp for ever pointless change the English dub did, I'd have a world full. I specifically hate it when they change English used in the Japanese original to something else like they did with the foods.

Thanks to Erlade and Sushi all the music tracks for this episode have also been added to the guide.

Link to Edits:

http://www.pocketmonsters.net/episodes/148#Edits

Link to Music:

http://www.pocketmonsters.net/episodes/148#Music
09 Oct 2011 06:00 PM

Registered Users


Joined: 08 Feb 2011
Forum Posts: 336


This episode reminded me that the Rocket Gang Pokémon never really changed over the course of the 3 main series (Original, Advanced and Diamond). They'd often keep the same for an entire sub-series... especially since they always had at least 4 free slots in both Kojiro AND Musashi's team... I know they're quite incompetent at stealing other people' Pokémon, but that doesn't mean they couldn't some fresh Pokémon another way.
Picture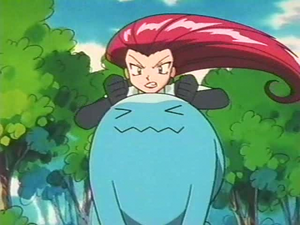 You must be signed in to rate episodes.
Average Rating:
7.08
VHS/DVD/Blu-ray Availability
Titles
| | | |
| --- | --- | --- |
| | 果然翁與神奇寶貝交換大會 | |
| | Výměnný bazar | |
| | De Kneepjes van het Vak | |
| | Tricks of the Trade | 2001-03-24 |
| | Echanges et Mélanges | |
| | Die Pokemon-Tauschbörse | |
| | ?רוצה להתחלף | |
| | La Fiera | |
| | ソーナンスとポケモンこうかんかい!! | 2000-05-04 |
| | Sonansu to Pokémon kōkankai!! | |
| | Sonansu and the Pokémon Trade Meet!! | 2000-05-04 |
| | Handlowe sztuczki | |
| | Truques do Ofício | |
| | Os Truques do Negócio! | |
| | Engaños En El Intercambio | |
| | Bazar De Cambio | |
Credits
| | | | |
| --- | --- | --- | --- |
| | Animation Director | 岩根雅明 (Masaaki Iwane) | |
| | Episode Director | 浅田裕二 (Yūji Asada) | |
| | Screenplay | 大橋志吉 (Yukiyoshi Ōhashi) | |
| | Storyboard | 井硲清高 (Kiyotaka Itani) | |
©2002-2020 PocketMonsters.net
Version 5.1778
Rendered in: 0.05157s Queries: 9
Pokémon, all assorted characters, images and audio are ©GAME FREAK, Nintendo, Creatures, TV Tokyo, ShoPro and The Pokémon Company.
All images, text and audio are used in an editorial context. No site content, information, translations, news, images or otherwise may be reposted to any website without expression permission from the staff.
Current logos by: Juno