»
Episode Guide
» Viewing Episode: ソーナンスとポケモンこうかんかい!!/Sonansu and the Pokémon Trade Meet!!
Ash and co. are continuing their way towards Goldenrod City. Then they see a trainer giving some good advice to his Pokémon. Ash wonders what the Pokémon is. Ash looks up the Pokémon in his Pokédex and finds out that it is a Wobbuffet. Ash thinks Wobbuffet is a great Pokémon. Ash, Misty, and Brock introduce themselves to the trainer, who's name is Benny. Benny tells them that he is trying to get his Wobbuffet to look the best it can because he is taking Wobbuffet to the Pokémon Swap Meet. Ash and co. ask what the Pokémon Swap Meet is. Benny tells them that every year the Pokémon Swap Meet takes place. In the event, you trade Pokémon with other trainers. Misty asks Benny why he would trade away Wobbuffet. Benny says that he wants to train a new Pokémon. Benny is willing to take Ash and co. to the event.

Meanwhile, Team Rocket is busy cleaning up. James is watering his Victreebel, and Jessie cleans up her face. Then Lickitung licks Jessie's face again, and Jessie gets angry at Lickitung. Meowth tells Jessie and James that there's a Pokémon Swap Meet nearby. They plan to steal all the Pokémon in the event.

When Ash and co. arrive at the Pokémon Swap Meet, Ash notices that the event is like a big festival. Suddenly, a Tauros stampede rushes through town. Ash and co. notice that everyone is excited over the Tauros. A guy tells Brock that anyone who is brave enough to touch the horn of a Tauros gets an award from the mayor. Ash wants to try it. However, when the Tauros get closer to him, Ash chickens out. The Tauros run into a stadium where a competition takes place. Two Tauros battle each other. The trainer with the stronger Tauros wins. Ash wants to battle, too. He runs to a phone and calls Professor Oak. Ash explains his situation, and he wants Professor Oak to trade Tauros over. Ash decides to trade Heracross over to Professor Oak, so that Professor Oak can observe Heracross more. Ash and Professor Oak make the trade, and then Ash rushes into the stadium.

The trainer agrees to battle Ash. Ash sends out his Tauros. The battle begins. Both Tauros start off with Take Down. They go head on. Benny sees Ash battling on the TV screen. Jessie and James are busy selling snacks. When they pass each other, they tell each other the Pokémon they spot. Ash's Tauros and the trainer's Tauros continue to go head on. Then with a little more might, Ash's Tauros pushes the trainer's Tauros into the air and defeats it.

After the battle, Ash and co. begin to walk around in the event. They notice that the trainers are bragging about their Pokémon while trading them. Brock thinks that bragging is okay since the trainers all put a lot of effort into training their Pokémon. Two trainers just traded their Marill and Ledyba. Benny walks around with his Wobbuffet. He wants to trade Wobbuffet for Ash's Tauros. He sees Ash. A few trainers go up to Ash and congratulate him for his win with Tauros. Then they all want to trade their Pokémon for Ash's Tauros, but Ash refuses to trade. Benny finds a trainer with a Scyther and asks to trade, but the trainer declines. Benny sighs because trading Wobbuffet may be challenging. Ash and co. meet up with Benny. Benny tells them that it may be hard to convince someone to trade with him. Ash and co. agree to help Benny find a trainer that will be willing to trade with him.

Meanwhile, Jessie and James are dressed in disguise. Next to them is a super-swapping machine. They announce to everyone that their machine trades Pokémon, and as a bonus the Pokémon will be raised one level. Everyone is crazy over Team Rocket's machine. Two trainers place their Pokéballs in the slots, and they are swapped with each other. The trainers don't know that Meowth is in the machine. Meowth is taking the trainer's Pokémon while exchanging it for empty Pokéballs.

Misty walks around looking for a trainer that Benny can trade with. Psyduck pops out of its Pokéball again. A few trainers walk up to Misty. They all want to trade for Misty's Psyduck. Misty runs away from them and thinks that Psyduck may be worth something after all. Ash finds a trainer with a Sentret and asks her if she would like to trade it for Wobbuffet. The trainer thinks Wobbuffet is a joke and walks away. Then Brock finds a trainer with a Stantler. The trainer does agree to trade his Stantler for Wobbuffet, and they head towards the exchange machine.

James a sack full of money in his hand from all the snacks he sold. The Magikarp man signals James to come over. He offers his Magikarp to James. He tells James that Magikarp can breed a lot of eggs, and he would be rich. James remembers the same man from the St. Anne. The Magikarp man realizes this. He steals James' money, and he begins to run away. James chases after the man. Benny and the other trainer are about to make the exchange, when the trainer sees another trainer with a Hoothoot. The trainer changes his mind about trading with Benny, and he runs off. While running, James knocks into Jessie. Jessie flies into the air and lands next to the exchange machine. One of Jessie's Pokéballs lands in the machine, and her Pokéball and Benny's Pokéball are swapped. Jessie takes the Pokéball back, thinking that it's hers, and she runs off to catch up with James.

Jessie finally catches up with James. Seconds later, Meowth runs up to them and tells them that there's word out that their exchange machine is a fake. Team Rocket looks around, and they see people glaring at them. All the trainers demand their Pokémon back. Team Rocket says their motto. The Pokéballs rest in a bag in Team Rocket's balloon. Ash and co. see Team Rocket. They demand that Team Rocket gives all the Pokéballs back. Team Rocket refuses to do so. Meowth presses a button on his remote. A rope shoots out and ties all the trainers together. Then James activates a vacuum. A vacuum from inside the balloon begins to suck up the rest of the trainers' Pokéballs. Ash gets an idea. He tells everyone to send out their Tauros. When all the Tauros are sent out, they use Take Down on Team Rocket. Team Rocket flies into their balloon. The bag of Pokéballs drops to the ground, and Team Rocket is sent flying. Scyther cuts the rope, freeing everyone. When everyone gets their Pokéballs, they notice that they are all empty. This means that Team Rocket still has the real Pokéballs.

Team Rocket has landed in the middle of a forest. They stare at the bag containing the real Pokéballs. They tell themselves that their plan has been a success. Suddenly, Ash and co. run up to Team Rocket. Jessie sends out Lickitung, and Ash sends out Chikorita. However, when Jessie's Pokémon comes out, it is a Wobbuffet. Jessie realizes that her Lickitung must've been traded when the Pokéball was knocked into the exchange machine. Jessie tells Wobbuffet to attack Ash and co. James looks in a book and reads that a Wobbuffet is a patient Pokémon, and it can't do any initiative attacks.

Chikorita starts off with Vine Whip. It successfully hits Wobbuffet, but Wobbuffet is still standing. Jessie reads the book and finds an attack that Wobbuffet can do. Chikorita uses Vine Whip again. Jessie calls out for a Counter attack. Wobbuffet's body glows, and it sends the vines back at Chikorita. Chikorita then uses Razor Leaf. Wobbuffet uses Counter once again, and the attack is sent back at Chikorita. Team Rocket is cheering for their victory. With Chikorita knocked out, Ash returns Chikorita back into its Pokéball. Pikachu is then sent into battle. Pikachu uses Thunderbolt on Team Rocket. Wobbuffet tries to Counter the attack, but the Thunderbolt is too strong, and it hits Team Rocket. Team Rocket blasts off again.

Ash and co. bring the bag of Pokéballs back to the trainers. The trainers finally receive their Pokéballs back. They thank Ash and leave. Benny runs up to Ash and co. Ash and co. finds out that Benny has a Lickitung. Benny tells them that he ended up trading with a lady with long hair and glasses. Benny wants to thank the lady, but she happened to leave. Benny shouts out, thanking the lady for trading with him. He hopes that she will take care of Wobbuffet, as he will take good care of Lickitung. Meanwhile, at night Team Rocket is hanging from a tree branch. They tell Wobbuffet that it is part of the team, and that they will eventually beat Ash and co. and capture Pikachu.

Picture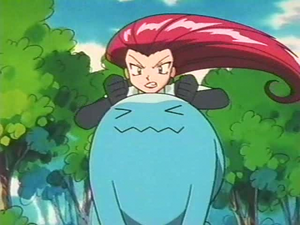 You must be signed in to rate episodes.
Average Rating:
7.08
VHS/DVD/Blu-ray Availability
Titles
| | | |
| --- | --- | --- |
| | 果然翁與神奇寶貝交換大會 | |
| | Výměnný bazar | |
| | De Kneepjes van het Vak | |
| | Tricks of the Trade | 2001-03-24 |
| | Echanges et Mélanges | |
| | Die Pokemon-Tauschbörse | |
| | ?רוצה להתחלף | |
| | La Fiera | |
| | ソーナンスとポケモンこうかんかい!! | 2000-05-04 |
| | Sonansu to Pokémon kōkankai!! | |
| | Sonansu and the Pokémon Trade Meet!! | 2000-05-04 |
| | Handlowe sztuczki | |
| | Truques do Ofício | |
| | Os Truques do Negócio! | |
| | Engaños En El Intercambio | |
| | Bazar De Cambio | |
Credits
| | | | |
| --- | --- | --- | --- |
| | Animation Director | 岩根雅明 (Masaaki Iwane) | |
| | Episode Director | 浅田裕二 (Yūji Asada) | |
| | Screenplay | 大橋志吉 (Yukiyoshi Ōhashi) | |
| | Storyboard | 井硲清高 (Kiyotaka Itani) | |
©2002-2020 PocketMonsters.net
Version 5.1778
Rendered in: 0.01535s Queries: 6
Pokémon, all assorted characters, images and audio are ©GAME FREAK, Nintendo, Creatures, TV Tokyo, ShoPro and The Pokémon Company.
All images, text and audio are used in an editorial context. No site content, information, translations, news, images or otherwise may be reposted to any website without expression permission from the staff.
Current logos by: Juno