»
Episode Guide
» Viewing Episode: ライバルバトル3本勝負! 明日に向かって!!/A Three-Round Rival Battle! Aim Towards Tomorrow!!
27 May 2015 11:13 AM

Admin Staff


Joined: 12 Jul 2007
Forum Posts: 988


Shota's cherished notebook has ended up in the hands of the Rocket Gang! Will Satoshi and his friends be able to retrieve it? Also, an all-out battle takes place between Satoshi and Shota! And then Shota's Kimori ends up...!?

Summary:

Having watched the Gym match between Satoshi and Mâche, Shota now has an even greater desire to get much stronger. However, he has ended up dropping the battle notebook he's always held so dearly somewhere! Shota is completely devastated; the notebook even contained photos of Daigo, whom he has always held in great respect. Feeling bad for Shota, Satoshi and the others help him search, but they can't find it anywhere... You see, the Rocket Gang already picked it up...!

Voice Cast:

Rica Matsumoto: Satoshi

Ikue Ohtani: Pikachu

Mayuki Makiguchi: Serena

Yuki Kaji: Citron

Mariya Ise: Eureka

Megumi Sato: Dedenne

Megumi Hayashibara: Musashi

Shinichiro Miki: Kojiro

Inuko Inuyama: Nyarth

Yuji Ueda: Sonansu

Noriko Shitaya: Yancham

Hitomi Nabatame: Harimaron

Chinatsu Akasaki: Horubee

Kensuke Sato: Rentorar

Kenta Miyake: Maaiika

Kiyotaka Furushima: Tatsubay

Kenichi Suzumura: Daigo

Unsho Ishizuka: Narration

This post was last edited 04 Jun 2015 06:55 AM by Adamant
Picture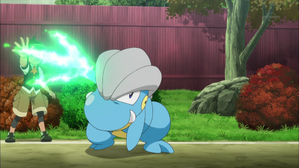 You must be signed in to rate episodes.
Average Rating:
VHS/DVD/Blu-ray Availability
Titles
| | | |
| --- | --- | --- |
| | Rivals: Today and Tomorrow! | 2015-08-08 |
| | Adversaires un jour, adversaires toujours ! | 2015-09-16 |
| | Ein neuer Rivale! | 2015-12-20 |
| | Rivali per sempre! | 2015-10-24 |
| | ライバルバトル3本勝負! 明日に向かって!! | 2015-06-04 |
| | Rival battle sanbon shōbu! Asu ni mukatte!! | 2015-06-04 |
| | A Three-Round Rival Battle! Aim Towards Tomorrow!! | 2015-06-04 |
| | 라이벌 배틀 삼세판! 내일을 향해서!! | 2015-09-17 |
| | ¡Rivales: hoy y mañana! | 2016-02-16 |
| | ¡Rivales: hoy y mañana! | 2016-03-02 |
| | Rivaler: i dag och i morgon! | 2015-08-20 |
Credits
| | | | |
| --- | --- | --- | --- |
| | Animation Director | 西谷泰史 (Yasushi Nishitani) | |
| | Animation Director | 黒石崇裕 (Takahiro Kuroishi) | |
| | Animation Director | 堤舞 (Mai Tsutsumi) | |
| | Animation Director | 新村杏子 (Kyoko Niimura) | |
| | Animation Director | 田島瑞穂 (Mizuho Tajima) | |
| | Episode Director | 関野昌弘 (Masahiro Sekino) | |
| | Screenplay | 冨岡淳広 (Atsuhiro Tomioka) | |
| | Storyboard | 木村哲 (Tetsu Kimura) | |
| | Assistant Animation Director | 志村泉 (Izumi Shimura) | |
| | Assistant Animation Director | 中矢利子 (Toshiko Nakaya) | |
| | Assistant Animation Director | 酒井裕未 (Hiromi Sakai) | |
©2002-2020 PocketMonsters.net
Version 5.1778
Rendered in: 0.01966s Queries: 9
Pokémon, all assorted characters, images and audio are ©GAME FREAK, Nintendo, Creatures, TV Tokyo, ShoPro and The Pokémon Company.
All images, text and audio are used in an editorial context. No site content, information, translations, news, images or otherwise may be reposted to any website without expression permission from the staff.
Current logos by: Juno