Summary:
Getta Banban (ゲッタバンバン) is the second opening theme for the Pocket Monsters XY anime and is sung by Tomohisa Sako (佐香智久). It replaced Volt and Megavolt which were the previous opening themes.
The opening starts with Pikachu popping up wearing Satoshi's cap and then running towards everyone else who are just waking up and coming out of their tents. During this time, the on-screen text state: The mysterious creatures of this planet Pocket Monsters... "Pokémon" for short! (この星の不思議な生き物 ポケットモンスター・・・ ちぢめてポケモン!) Now the story of the encounters, adventures and battles of Satoshi and the Pokémon begins! (今、サトシとポケモンたちの出会いと冒険と戦いの物語がはじまる!)
The Pocket Monsters XY logo fades in and then transitions to the main cast shown doing some of their daily activities.
Higher resolution images from the variants are available on the Imageboard thread
.
Variant 2
From
XY61
to
XY70
, the second variant was used and it featured
Serena's
new hairstyle and outfit as well as the additions of
Citron's Rentorar
and
Serena's Tairenar
. The opening also included the addition of
Fukuji
,
Mâche
and
Gojika
, the Gym Leaders that Satoshi faced in those episodes.
Variant 3
From
XY71
to
XY93
, a scene featuring
Serena's Eievui
dancing around at night was also added and it replaced the Gym Battle scene of Satoshi VS Citron. A new scene with
Satoshi's Onbat
attempting to fly but then falling to the ground and starting to cry was also added.
Movie 18 Scenes
To promote the
18th Pocket Monsters movie The Archdjinni of Rings: Hoopa
, scenes from the movie aired in the opening around the time that the movie was in the theater. It featured many of the Legendary Pokémon including Hoopa.
Tomohisa Sako's Live Stage Show "Pokémon Tretta Special Stage Show" Saturday June 20th, 2015
A live stage show was held by Tomohisa Sako, singer of "Getta Banban", the opening theme to the anime TV series "Pocket Monsters XY", at the Takara Tomy Booth at the Tokyo Toy Show 2015. "Getta Banban", the opening theme to the anime TV series "Pocket Monsters XY", was playing on the stage monitor before the show started, as both children and many fans were all eagerly awaiting Tomohisa Sako's appearance. The lady hosting the show briefly introduced Sako as he made his way onto the stage! The show then started with a performance of "Kirakira", the song that accompanies "Getta Banban"! The event was also broadcast live via NicoNico.
A Miracle Pokemon Collab Event that Transcends Generations
A Miracle Pokemon Collab Event that Transcends Generations (世代を超えた奇跡のポケモンコラボイベン)
took place from January 20th, 2016 until February 14th, 2016 and featured Satoshi's voice actress Rica Matsumoto and Tomohisa Sako. The anime concert series was to promote the
TV Anime 'Pocket Monsters XY&Z' Character Song Project Collection vol. 1
CD which they both worked on together. The two sang
XY&Z
and
Getta Banban
as part of the performance.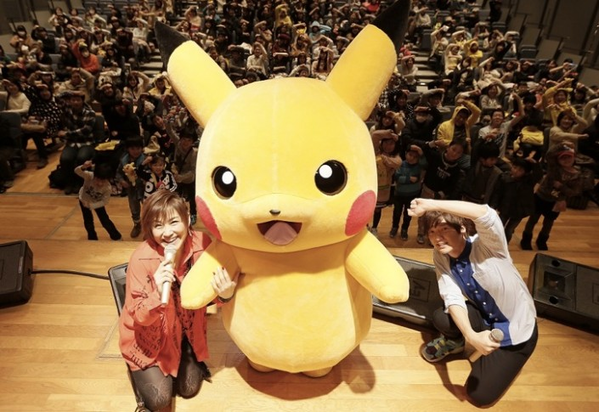 Event Dates/Locations:
January 20th, 2016 - Yokohama
January 23rd and 24th, 2016 - World Hobby Fair 2016 - Tokyo - Makuhari Messe
January 30th, 2016 - Aichi - Pokémon Center Nagoya
January 31st, 2016 - World Hobby Fair 2016 - Nagoya - Aichi Nagoya Dome
February 7th, 2016 - World Hobby Fair 2016 - Osaka - Osaka Kyocera Dome
February 6th, 2016 - Osaka - Pokémon Center Osaka
February 13th, 2016 - Fukuoka - Pokémon Center Fukuoka
February 14th, 2016 - World Hobby Fair 2016 - Fukuoka - Fukuoka Yahoo! Auctions Dome
Episodes: