»
Episode Guide
» Viewing Episode: ロコン!ブリーダーたいけつ!/Rokon! Breeder Showdown!
05 Aug 2011 10:43 PM

Admin Staff


Joined: 18 Jun 2007
Forum Posts: 1708

06 Aug 2011 01:04 PM

Registered Users


Joined: 08 Feb 2011
Forum Posts: 336


I really liked this episode, since it's one of the few ones entirely dedicated to Pokémon breeding, and where Takeshi plays a greater role than usual.
Though, it's funny, because I didn't remember Takeshi actually got a Rokon... I wonder how long he kept it;
07 Aug 2011 07:56 AM

Admin Staff


Joined: 12 Jul 2007
Forum Posts: 956


He gave it back to Yuki next time they met, in episode 171, and never really used it a whole lot.
06 Jan 2012 12:42 PM

Registered Users


Joined: 04 Oct 2008
Forum Posts: 41


The most funny scene in the Pocket Monsters ,i think, is Misty's flashy(ridiculous i mean) face.When i first watched this episode i laughed so many times because of this face:):).

This post was last edited 28 Jan 2012 03:28 AM by memocan42
03 May 2014 11:16 AM

Admin Staff


Joined: 12 Jul 2007
Forum Posts: 956


Summary:

Satoshi and friends have come to "Scissors Street", which Takeshi insisted they visit. It's a town filled with Pokémon Breeders, famous for its many Pokémon Beauty Salons.

"Rokon", the Pokémon Beauty Salon Takeshi wanted to visit, is also found here. Yuki, the owner of "Rokon", is a master Breeder who has won the grand prize in the Pokémon Breeder Contest for three years straight. However, recently a salon called "Lovely Charmy" has been making a killing on gaudy fashion, which worries the owners of old-school salons.

Voice Cast:

Rica Matsumoto: Satoshi

Ikue Ohtani: Pikachu

Mayumi Iizuka: Kasumi

Yuji Ueda: Takeshi

Megumi Hayashibara: Musashi

Shinichiro Miki: Kojiro

Inuko Inuyama: Nyarth

Rei Sakuma: Yuki

Rikako Aikawa: Koduck

Katsuyuki Konishi: Mister

Unsho Ishizuka: Narration

This post was last edited 03 May 2014 11:18 AM by Adamant
Picture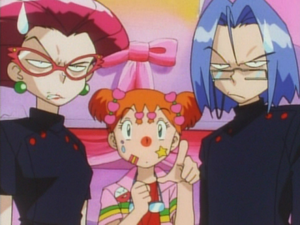 You must be signed in to rate episodes.
Average Rating:
8.17
VHS/DVD/Blu-ray Availability
Titles
| | | |
| --- | --- | --- |
| | 美容街!飼養家大決鬥 | |
| | Pokémonská módní přehlídka | |
| | Det Store Modeflip | |
| | De Allernieuwste Mode | |
| | Pokemon Fashion Flash | 1998-10-14 |
| | Pokémonien muotikatsaus | 2000-09-16 |
| | Les Pokémon changent de look | |
| | Modezeit - Eitelkeit | |
| | Η Μόδα Πόκεμον | |
| | אופנת הפוקימונים | |
| | A pokémon-tenyésztők | |
| | Il salone di bellezza | |
| | ロコン!ブリーダーたいけつ! | 1997-10-07 |
| | Rokon! Breeder taiketsu! | |
| | Rokon! Breeder Showdown! | 1997-10-07 |
| | Główna aleja wychowawców | |
| | Última Moda Pokémon | |
| | O Vulpix do Brock | |
| | Аллея будущих покемоноводов | |
| | La Ultima Moda Pokémon | |
| | Moda Pokémon | |
| | Pokémonmodet | 2000-12-02 |
Credits
| | | | |
| --- | --- | --- | --- |
| | Animation Director | 玉川明洋 (Akihiro Tamagawa) | |
| | Episode Director | 浅田裕二 (Yūji Asada) | |
| | Screenplay | 冨岡淳広 (Atsuhiro Tomioka) | |
| | Storyboard | 浅田裕二 (Yūji Asada) | |
©2002-2019 PocketMonsters.net
Version 5.1778
Rendered in: 0.05739s Queries: 9
Pokémon, all assorted characters, images and audio are ©GAME FREAK, Nintendo, Creatures, TV Tokyo, ShoPro and The Pokémon Company.
All images, text and audio are used in an editorial context. No site content, information, translations, news, images or otherwise may be reposted to any website without expression permission from the staff.
Current logos by: Juno