»
Episode Guide
» Viewing Episode: 大一番!ハルカVSタケシ!!/Decisive Match! Haruka VS Takeshi!!
Ash and co. have arrived at another town where May will compete for her fourth Battle Frontier ribbon. May sends out Eevee. She is practicing for the contest. Ash, Brock, and Max congratulate May for the hard work she has put into this contest. May thanks them for the compliments. She knows that Eevee's first contest will end up in a win.

A girl with her Raticate is searching for the registration desk. Suddenly, Eevee pops up from under her feet and jumps into May's arms. May asks if the girl is alright. The girl asks them if they know where the registration desk is at. Brock points her to the right direction. May tells Eevee not to run off on its own anymore. Eevee jumps back on the ground and digs another hole. Then it comes out underneath Ash's feet. Max thinks Eevee might've learned Dig. May is happy that Eevee learned a new attack right before the contest.

Another young woman walks up to Brock. She notices how cute it is and picks it up. At first Brock thought the woman was talking to him. The woman introduces herself as Yuma. She is a Pokémon Breeder. Brock tells Yuma that he is also a Pokémon Breeder. Yuma explains that you can tell the difference between a Pokémon that has been raised by a breeder and one that hasn't. Most Pokémon that are raised by breeders are much healthier. Brock wants Yuma to examine his other Pokémon. Brock takes out Marshtomp and Forretress. Yuma notices how beautiful they are. Brock then holds out some Pokémon food that was designed only for Marshtomp. Yuma tries a sample and tells Brock that it is great. Then Yuma tells Brock that he should enter a Pokémon Contest since breeding and competing in contests are similar. Yuma has entered in contests before, and she has won the Grand Festival. Now Yuma passes her knowledge on beginners. Brock immediately signs up for the contest.

Jessie also plans on entering the contest. She takes out a box full of fake ribbons. She tells James and Meowth that they need to sell the ribbons so that she can get a new costume. James looks at the ribbons and finds out that they are made from his bottle cap collection.

The contest is about to start. Lillian introduces herself and the contest. Lillian holds out the ribbon that the coordinators will compete for. Brock tells May that he is both nervous and excited at the same time. It has been awhile since he was in an official battle. Then Lillian introduces the judges. When the introductions are finished, the contest begins.

The first coordinator is the girl that Ash and co. met before. The girl sends out her Raticate. Then she throws a log to Raticate, and Raticate uses Hyper Fang to destory the log. Brock is amazed at the girl's Raticate. May tells Brock that he has to focus on beating the other coordinators and not cheering for them.

The next contestant is May. May sends out her Squirtle. Squirtle uses Rapid Spin. It starts spinning on the ground. Then Squirtle uses Bubble to make a bubble pyramid. When the pyramid is complete, Squirtle fires an Ice Beam. The bubbles turn to ice creating an ice sculpture.

After a few more contestants, Brock is next. He is a bit nervous, but he can control himself for the moment. Brock sends out Bonsly. It starts off with Fake Tears. The audience is stunned at the attack. The judges think Bonsly is unique including Nurse Joy. Brock rushes towards Nurse Joy and holds her hand. Lillian pulls Brock away. Brock apologizes to the audience. He becomes tough and throws a baseball at Bonsly at full speed. Bonsly catches the ball. Then Brock throws a few more baseballs in the air. Using Flail, Bonsly is able to juggle the balls. The audience applauds for Brock.

The first round is over and the results are displayed on screen. Both Brock and May have made it to the next round. If Brock can make it through the second round, he will be in the finals. Ash, Yuma, and Max meet up with Brock and May. Yuma tells Brock that he did good. She also compliments on May's performance. Brock mentions that he was nervous at first, but then it got easier once he heard the audience cheer.

The contest begins again. The girl sends out Absol and Brock sends out Marshtomp. Absol starts off with Razor Wind, but Marshtomp dodges the attack. Absol then charges towards Marshtomp by using Quick Attack. Marshtomp uses Mud Shot on the ground. Absol slips on the mud and falls. Yuma is carefully watching the battle. She wants Brock to study with her. Marshtomp ends the battle with Water Gun.

The final round is about to start. The finals are with Brock and May. Max doesn't even know who he should cheer for, so he decides to cheer for both of them. May sends out Eevee and Brock sends out Marshtomp. Eevee starts off with Shadow Ball, an attack that Marshtomp easily dodges. Marshtomp counters with Mud Shot, but Eevee avoids the attack by using Dig. Brock tells Marshtomp to sense Eevee's underground movements. Marshtomp's fins can act like radars, and because Marshtomp is a ground type, it is able to sense Eevee. Eevee comes out of the ground. Marshtomp hits Eevee with Water Gun. Because Marshtomp can sense Eevee's underground movements, it won't be able to use Dig at all. Marshtomp uses Mud Shot again. Eevee dodges it, but part of the mud hits Eevee's face. Then Marshtomp tackle Eevee, damaging Eevee even more. Eevee tries Shadow Ball again, but Marshtomp just counters with Water Gun.

Eevee tries Dig again, but Marshtomp is able to sense all of Eevee's attacks. Then Marshtomp uses Mud Shot on the ground. The battlefield is changed to a muddy field. Eevee starts to slip in the mud. May suddenly gets an idea. She tells Eevee to jump on the rocks. Eevee does so. Marshtomp fires a Water Gun at Eevee. Eevee jumps on the water and is able to tackle Marshtomp. Now it doesn't matter if the ground is muddy or not because Eevee can is able to travel on the rocks. Both Pokémon attack each other over and over. When the time is up, May is the winner. May is presented with the ribbon.

Yuma has decided to take the new girl, Molly, as her student since she can't teach Brock anything more. Brock is sad by this. Then Yuma and Molly leave. Ash tells Brock to cheer up. Now May is only one ribbon away from entering the Grand Festival. Meanwhile, Team Rocket has made enough money to get Jessie a new costume for future contests.

Picture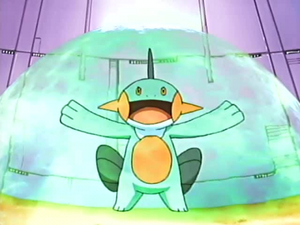 You must be signed in to rate episodes.
Average Rating:
6.56
VHS/DVD/Blu-ray Availability
Titles
| | | |
| --- | --- | --- |
| | 奪冠賽!小遙對抗小剛! | |
| | Jeg Gjorde Det Af Kærlighed | 2008-11-22 |
| | Alles voor de liefde | |
| | What I Did For Love! | 2006-11-18 |
| | Rakkauden tähden | |
| | Par amour | |
| | Glück im Spiel - Pech in der Liebe! | |
| | Τι Έκανα Για Την Αγάπη | |
| | Cosa non si fa per Amore | |
| | 大一番!ハルカVSタケシ!! | 2006-03-09 |
| | Decisive Match! Haruka VS Takeshi!! | 2006-03-09 |
| | Jeg gjorde det for kjærligheten! | 2009-06-22 |
| | O Que Eu Fiz por Amor! | |
| | O que Eu Fiz Por Amor! | 2007-07-28 |
| | ¡Lo Que Hice Por Amor! | |
| | Lo Que Se Hace Por Amor | |
| | Vad gör man inte för kärlek? | 2008-12-20 |
Credits
| | | | |
| --- | --- | --- | --- |
| | Animation Director | 広岡歳仁 (Toshihito Hirooka) | |
| | Episode Director | 渡辺正彦 (Masahiko Watanabe) | |
| | Screenplay | 冨岡淳広 (Atsuhiro Tomioka) | |
| | Storyboard | しのゆき (Yukihiro Shino) | |
©2002-2020 PocketMonsters.net
Version 5.1778
Rendered in: 0.02657s Queries: 6
Pokémon, all assorted characters, images and audio are ©GAME FREAK, Nintendo, Creatures, TV Tokyo, ShoPro and The Pokémon Company.
All images, text and audio are used in an editorial context. No site content, information, translations, news, images or otherwise may be reposted to any website without expression permission from the staff.
Current logos by: Juno