»
Episode Guide
» Viewing Episode: ハーリー&ロケット団 悪役同盟結成!?/Harley and Team Rocket: The Formation of a Villain Alliance!?
Nurse Joy and Chansey walk out with May's Pokémon. Nurse Joy reports that May's Pokémon are healthy. May is ready to enter the Pokémon contest. This Pokémon contest is also her last one before she is qualified to enter the Grand Festival. Nurse Joy says that the Grand Festival is next month, so this contest will also be the last one. If May doesn't win, she won't qualify. May must do some serious training before the contest begins.

May sips her drink and sighs. The pressure is really getting to her now. If she loses, Drew will torture her forever. Max asks if it is all about Drew. May knows it is not, but she thinks Drew already has five ribbons. Ash offers to be May's training partner. May thinks that it is a great idea. Then a person walks up behind May. He whispers in May's ear. It is Harley. May tells Harley that she is going to win the ribbon. Harley accidently drops something. May picks it up. It is Harley's ribbon case, and he has already won five ribbons. Harley doesn't have to enter the contest, but May does. May finds Harley to be very annoying. Harley then walks away. May gets Ash to train with her.

Outside, May's Combusken is up against Ash's Pikachu. Brock thinks that it is a good thing that Harley showed up because May forgot about this contest being her last chance. Also, because of Harley, May is more determined than ever to win the contest. Jessie is also entering the contest. James and Meowth have spent everything they had just so that Jessie could get a new outfit. Her disguise name is Jezebella. She wants Meowth to be her comic relief.

The contest has began, and Jessie is up next on the stage. Meowth tells jokes to people on stage. The judges think that Jessie's performance was good and original. When they get back outside, Meowth rips part of her costume off. He would rather battle than tell jokes. Harley then walks up to them and notices that Jessie is a member of Team Rocket. Harley wants to help Jessie win the contest. He decides to let Jessie use some of his Pokémon. Then he shows them his five ribbons, meaning his Pokémon must be powerful. Team Rocket bows down to Harley. Harley then says that there is one problem. That problem is May because she ruins everything. May brings back bad memories for Harley. He remembers a time when at school May ruined his lunch. Harley wants revenge on May. He sends out Cacturne and Banette. These two Pokémon will help May win the contest. Cacturne has already fallen in love with Jessie at first sight. Harley then tells Jessie his secret plan to get rid of May.

The contest is about to begin. Lilian, the host, introduces everyone to the contest. She then introduces the three judges. May is watching Lilian's speech from the other room. Lilian presents the contest ribbon that everyone will be competing for. Jessie walks in and greets May. May knows her as Jezebella. Jessie tells May that she plans on winning the ribbon. May says that she has four ribbons already. The other coordinators in the same room have only four ribbons too, so it will be a competitive battle.

The contest begins. Everyone shows off their Pokémon and moves. Brock notices that there are some strong opponents in this contest, but that is because they are so close from the Grand Festival. Max hopes May can win. The next coordinator is Jessie. She enters the stage and sends out Cacturne. Cacturne uses Needle Arm. Then Jessie throws a vegetable at Cacturne and it uses Cut. The pieces from the vegetable fall neatly on a plate. The audience goes wild. Ash and co. knows that Jessie will be hard to beat. Then Cacturne uses Cotton Spore followed by Bullet Seed. Her performance comes to an end, and the judges think that it will terrific.

May is the next coordinator to take the stage. Before she can send out her Pokémon, she trips and falls. Ash and Brock assume the pressure for winning the contest must be getting to her. Lilian helps May back up. Then May sends out Combusken. She tells Combusken to use Mega Kick. It does but trips and falls. Pikachu notices that something is wrong. When Combusken uses another attack, Ash sees a white line come out. They run towards the back of the stage. From there they see James and Meowth using Ariados's threads to ruin May's performance. Pikachu uses Quick Attack to bring Ariados's threads, but Ariados ties Pikachu up. May tells Combusken to use Fire Spin. Because Team Rocket is distracted, Combusken uses a perfect Fire Spin. Also, the fire begins to move up to the top of the stage because Ariados's threads have caught on fire. It looks like Combusken is controlling the fire. The fire reaches Ariados. The threads are burnt off of Pikachu too. Pikachu uses Iron Tail to blast James and Meowth out of the building.

With James and Meowth gone, May can continue with her contest. She throws out a frisbee to Combusken, and Combusken uses Sky Uppercut to knock the frisbee right back at May. Harley is getting very upset at seeing May win. May throws the frisbee again, and this time Combusken uses Mega Kick. May walks back into the room and sighs. She is devastated. Jessie is in the back corner watching May. Ash and co. walk in. Ash tells May that it was Team Rocket's fault that May messed up. Then Lilian announces the eight contestants that will move up to round two. May and Jessie both made it. Harley is angry at Team Rocket for failing. He recalls back his Ariados and walks away. Jessie wants to get rid of Ash and co. badly. She thinks of a plan to get rid of May and make her victorious. What could her plan be...?

Picture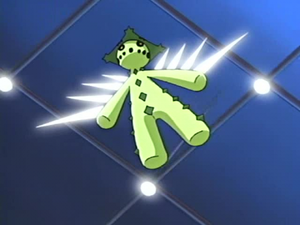 You must be signed in to rate episodes.
Average Rating:
7.00
VHS/DVD/Blu-ray Availability
Titles
| | | |
| --- | --- | --- |
| | 哈利與火箭隊 組成反派同盟!? | |
| | Et Spind Af Sammensværgelser | 2009-01-03 |
| | Oude Koeien, Nieuwe Sloot | |
| | New Plot, Odd Lot! | 2006-11-29 |
| | Uudet juonet ja outo porukka | |
| | Complot pour un ruban | |
| | Kommt Zeit - Kommt Plan! | |
| | Una Gara Decisiva | |
| | ハーリー&ロケット団 悪役同盟結成!? | 2006-04-27 |
| | Harley and Team Rocket: The Formation of a Villain Alliance!? | 2006-04-27 |
| | Gamle fiender, nye problemer. | 2009-06-22 |
| | Nova Trama, Sorte Estranha! | 2007-09-15 |
| | Nuevo Complot, Extraños Aliados | |
| | Nuevo Plan, Viejo Resultado | |
| | Fula ränker som de tänker | 2009-01-27 |
Credits
| | | | |
| --- | --- | --- | --- |
| | Animation Director | 山本正文 (Masafumi Yamamoto) | |
| | Episode Director | 今野アキ (Akira Imano) | |
| | Screenplay | 冨岡淳広 (Atsuhiro Tomioka) | |
| | Storyboard | 小山賢 (Masaru Koyama) | |
©2002-2020 PocketMonsters.net
Version 5.1778
Rendered in: 0.01624s Queries: 6
Pokémon, all assorted characters, images and audio are ©GAME FREAK, Nintendo, Creatures, TV Tokyo, ShoPro and The Pokémon Company.
All images, text and audio are used in an editorial context. No site content, information, translations, news, images or otherwise may be reposted to any website without expression permission from the staff.
Current logos by: Juno