»
Episode Guide
»Viewing Episode: ポケモンセンターはおおいそがし!/The Pokemon Center is Very Busy!
Eyecatch
Pre-episode Message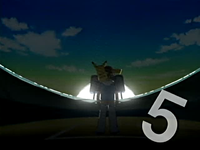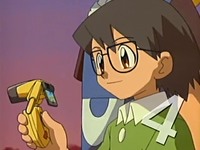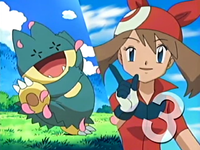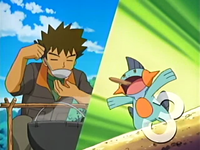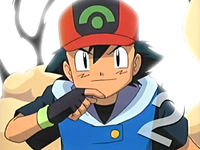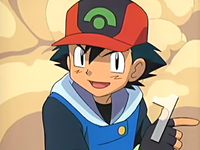 Eyecatch
Regice Eyecatch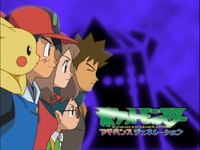 Special First-Airing Segment
Diamond and Pearl Full-Force Scoop
This episode debuts a new segment, the "Diamond & Pearl Full-Force Scoop", hosted by the (unofficial) "Diamond & Pearl Campaign Boys",
Hiroshi Yamamoto
,
Ryuji Akiyama
and
Hiroyuki Baba
from Robert. They introduce themselves, and Akiyama mentions they're wearing the same hat as the protagonist of the new Pocket Monsters games.
Baba explains that new information on these games has finally been revealed - they'll be role playing games titled Pocket Monsters "Diamond" and "Pearl".
As video footage of the games is shown, the trio explains how these games will have you adventuring both through forests and the sea, battling wild Pokémon as you go. Using monster balls, you'll be gathering these creatures, ultimately aiming to fill up the Pokémon Zukan.
They end the segment by saying the games will be released Thursday September 28th, and Akiyama adds that there's only 42 days left until then - so you wait up and not go to bed just yet. Yaamoto tells him how that's not possible, and Baba signs off and mentions they'll have more information next week.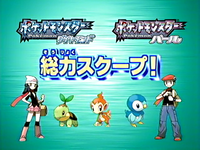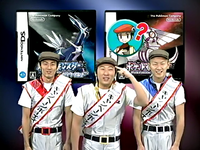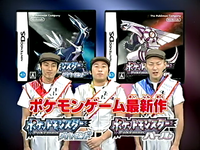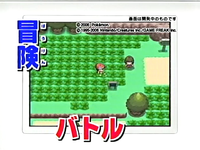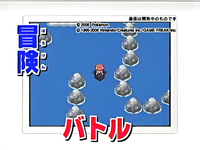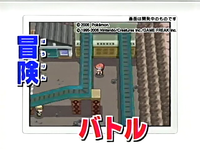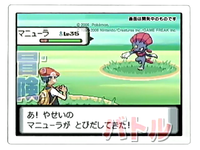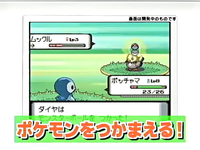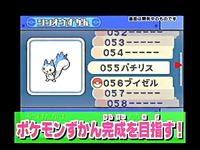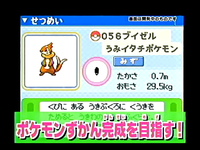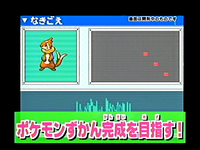 Picture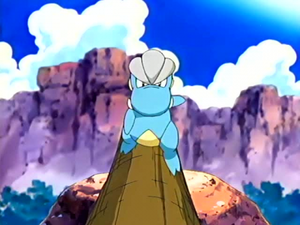 You must be signed in to rate episodes.
Average Rating:
7.30
VHS/DVD/Blu-ray Availability
Titles
| | | |
| --- | --- | --- |
| | 神奇寶貝中心大忙碌! | |
| | Pas på helbredet! | 2009-02-28 |
| | De Fijne Kneepjes van het Vak! | |
| | Pinch Healing | 2007-02-03 |
| | Parantajat! | |
| | Au bon endroit, au bon moment | |
| | SOS in den Bergen | |
| | Al posto giusto, nel momento giusto! | |
| | ポケモンセンターはおおいそがし! | 2006-08-17 |
| | The Pokemon Center is Very Busy! | 2006-08-17 |
| | I siste øyeblikk! | 2009-06-22 |
| | Confusão no Centro! | |
| | Conselho Saudável! | 2008-01-05 |
| | Скорейшего выздоровления | |
| | ¡Sanando las heridas! | |
| | ¡El toque sanador! | |
| | Doktor Brock! | 2009-05-09 |
Credits
| | | | |
| --- | --- | --- | --- |
| | Animation Director | 志村泉 (IzumiShimura) | |
| | Episode Director | 小山賢 (MasaruKoyama) | |
| | Screenplay | 藤田伸三 (ShinzōFujita) | |
| | Storyboard | 小山賢 (MasaruKoyama) | |
©2002-2020 PocketMonsters.net
Version 5.1779
Rendered in:0.02712s Queries:7
Pokémon, all assorted characters, images and audio are ©GAME FREAK, Nintendo, Creatures, TV Tokyo, ShoPro and The Pokémon Company.
All images, text and audio are used in an editorial context. No site content, information, translations, news, images or otherwise may be reposted to any website without expression permission from the staff.
Current logos by: Juno