»
Episode Guide
»Viewing Episode: イッシュ地方へ!ゼクロムの影!!/To the Isshu Region! The Shadow of Zekrom!!
07 Sep 2010 08:16 AM

Automated Bots


Joined:31 Dec 1969
Forum Posts:1405

09 Sep 2010 12:37 AM

Registered Users


Joined:22 Jul 2010
Forum Posts:5


Zekrom??? i thught ash would only see reshiram in this epsiode but it would be cool if both appeared
09 Sep 2010 11:43 PM

Banned Users


Joined:04 Apr 2009
Forum Posts:71


Ash's new eyes are scary. :/
12 Sep 2010 01:26 AM

Registered Users


Joined:22 Jul 2010
Forum Posts:5


Quote From: precita

Ash's new eyes are scary. :/

lol i like the eyes anyways but i had to admit they are freaking looking
24 Sep 2010 01:31 AM

Registered Users


Joined:24 Aug 2008
Forum Posts:8


I thought it was pretty good. there were only a few times where Ash eyes really bothered me, and they all happened to be the same ones that were generally used in the commercials for the premier XD And, to be honest, I thought the expressions on all the characters were great.

I'm a bit disappointed that Pikachu's electricity problem was solved so quickly, though, but I really shouldn't have been hoping for a season-long story arc involving Pikachu being unable to use electricity like I was. Such is life.
24 Sep 2010 08:17 AM

Admin Staff


Joined:18 Jun 2007
Forum Posts:1719


This episode certainly exceeded my expectations. The background music was epic but its unfortunate that we probably won't most of it on CD. The episode had more of a movie feel to it than an episode which made it that much better. A good start to the series.
25 Sep 2010 04:02 AM

Registered Users


Joined:20 Jun 2009
Forum Posts:4


I loved the movie-like intro and the new attack animations - especially those for Quick Attack and Iron Tail. I won't talk about the music, since everyone already knows how awesome it was. xD Aside from that, I really liked how Satoshi also had a myriad of expressions - thanks to the "reset" - perhaps more than he's shown in the whole of D&P.
25 Sep 2010 10:23 AM

Banned Users


Joined:04 Apr 2009
Forum Posts:71


I'm glad we got to see Delia again after so long.

I doubt we'll see much of the way of older characters this series, even Gary isn't likely to appear in Isshu, unlike the way they hyped him up for DP.

Iris officially seems to be the new Misty, complete with being a Gym leader, so this is probably why Misty has been phased out of Pokemon. I very much doubt Misty will ever appear in Pokemon ever again now, especially since she hasn't appeared in nearly 300 episodes and never appeared in DP.

In any case, I am now convinced the writers consider Tracey and Misty their least favorite characters. Their disinterest in them grows more apparent with each passing generation.
26 Sep 2010 09:47 AM

Registered Users


Joined:31 Mar 2010
Forum Posts:29


I hear that Iris is actually the daughter of the dragon type gym leader in the anime. Is this true or not?
07 Oct 2010 05:35 AM

Registered Users


Joined:13 Jul 2007
Forum Posts:40


I think it was a great episode indeed. Great animation, lots of new things happening, Zekrom was awesome, music was awesome :) Great start of the new series
03 Nov 2010 12:40 AM

Registered Users


Joined:25 Sep 2009
Forum Posts:96


This was definitely a great start to the series and I really liked the Mamanbo that Ash saw in the beginning. I really hoped that it would be his first Pokémon in Isshu.
Zekrom was also really cool. I liked how it seemed like part of the thundercloud and seemed to be able to move at will, but compared to the legendary Pokémon from Sinnoh it doesn't seem like much. I mean, the Dragon Trio and Arceus and each have their own dimension and Zekrom only has a thundercloud! I'm curious to see where Reshiram resides. It was rather contrived that only Ash and Pikachu were affected by Zekrom. It would have been more realistic had the whole building been affected.
The drive to the Pokémon lab was also pretty cool for showing a few different types of Pokémon. It really made the region seem new and not taken for granted by Ash, which it usually seems like when he is just passing through.
15 Feb 2011 11:13 AM

Admin Staff


Joined:18 Jun 2007
Forum Posts:1719


The English dub was quite accurate when compared to the Japanese original. A few changes here and there but overall it was identical. I really miss the original Professor Oak English voice.

English Dub Edit's:

http://www.pocketmonsters.net/episodes/1177#Edits
22 Mar 2011 05:13 AM

Registered Users


Joined:23 Oct 2010
Forum Posts:18


My opinion; Pikachu went to level 100 to level 5 when he got his voltage fixed.

really now every since advance season started, pikachu been losing battles and got used less and less. I see that pokemon fans are disappointed that pikachu keeps losing like that. It was much more fun in the old days plus the new season surprisingly bores me =/ maybe because now that the seasons are game is with the abilities the attacck effects and etc
24 Apr 2011 12:50 PM

Admin Staff


Joined:21 Aug 2008
Forum Posts:106


Title in Swedish added today. Thank you, TV4, for skipping episodes randomly just to rush forward in the anime!

Home cooking is killing restaurant industry (and it's tasty)!
10 Mar 2012 09:57 AM

Registered Users


Joined:01 Feb 2009
Forum Posts:91


Danish Airdate: Today
Title: I Zekrom's skygge!
Picture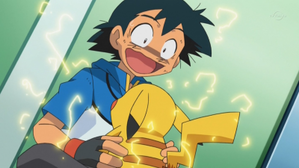 You must be signed in to rate episodes.
Average Rating:
9.03
VHS/DVD/Blu-ray Availability
Titles
| | | |
| --- | --- | --- |
| | 前往合眾地方!捷克羅姆的身影!! | 2011-01-28 |
| | I Zekroms skygge! | 2012-03-10 |
| | In de schaduw van Zekrom! | 2011-02-25 |
| | In the Shadow of Zekrom! | 2011-02-12 |
| | Zekromin varjossa! | |
| | Dans l'Ombre de Zekrom ! | 2011-02-23 |
| | Im Schatten von Zekrom! | 2011-05-01 |
| | All'ombra di Zekrom! | 2011-02-13 |
| | イッシュ地方へ!ゼクロムの影!! | 2010-09-23 |
| | Isshu-chihō e! Zekrom no kage!! | 2010-09-23 |
| | To the Isshu Region! The Shadow of Zekrom!! | 2010-09-23 |
| | 하나지방과 제크로무의 어두운 그림자! | 2011-05-16 |
| | I Zekroms skygge! | 2011-08-21 |
| | W cieniu Zekroma! | 2012-01-02 |
| | Na Sombra do Zekrom! | 2012-05-26 |
| | Na Sombra do Zekrom! | |
| | В тени Зекрома! | |
| | ¡Bajo la sombra de Zekrom! | 2011-07-29 |
| | ¡A la sombra de Zekrom! | 2012-03-17 |
| | I Zekroms skugga! | 2011-04-24 |
Credits
| | | | |
| --- | --- | --- | --- |
| | Animation Director | 志村泉 (IzumiShimura) | |
| | Episode Director | 小山賢 (MasaruKoyama) | |
| | Screenplay | 冨岡淳広 (AtsuhiroTomioka) | |
| | Storyboard | 須藤典彦 (NorihikoSutō) | |
©2002-2020 PocketMonsters.net
Version 5.1779
Rendered in:0.02118s Queries:9
Pokémon, all assorted characters, images and audio are ©GAME FREAK, Nintendo, Creatures, TV Tokyo, ShoPro and The Pokémon Company.
All images, text and audio are used in an editorial context. No site content, information, translations, news, images or otherwise may be reposted to any website without expression permission from the staff.
Current logos by: Juno