»
Episode Guide
» Viewing Episode: イッシュ地方へ!ゼクロムの影!!/To the Isshu Region! The Shadow of Zekrom!!
Ash, a fledgling trainer from Pallet Town, prepares for his embark into a new region filled with never before seen species. Ash's house is situated on a small road in Pallet Town surrounded by a small white picket fence and adorning a brilliant red roof. Inside our hero's residence, Ash begins zipping up his jacket while Pikachu sits atop his bed. After Ash finishes zipping up his jacket, Pikachu jumps onto his back in a gleeful fashion.

Ash's room consists of a small dresser, which contains a Teddiursa statue, a desk, and a bunk bed. After Pikachu jumps onto Ash's shoulders, he rushes for the door however manages to leave his prized hat behind. But shortly after shutting the door to his bedroom, realizes he had left his hat and rushes back inside to grab it.

After securing his hat to his head, Ash questions Pikachu if he is excited for their new adventure. Pikachu confirms with a cute expression of "Pika". Ash continues by stating that it has been a very long time since he has last taken a vacation with his mother.

Delia interrupts the two announcing that Professor Oak has come to pick them up. Delia walks over and adjusts Ash's hat and then states they are ready to go. Outside, Oak is adorning a red headband, sunglasses, green shirt with a pineapple pattern, and sitting inside a yellow vehicle.

Ash questions Oak's weird choice of outfit. Oak responds stating that he has a vacation "feeling" and hasn't been to the Unova Region for a very long time. Delia questions the Professor's original intention of visiting the Unova Region for work rather than leisure. Oak confirms when he isn't attending a congress; he has ample free time to enjoy himself. Oak shakes his fist announcing that is time to go. Ash, in an enthusiastic manner, shouts to Pikachu; "All right. Let's go, Pikachu!"

Meanwhile, Jessie, James, and Meowth are situated in a remote Team Rocket base and are conferenced with their leader, Giovanni. Giovanni is conferenced through a remote connection and his image is displayed on a screen overhead. Team Rocket stands in the middle of a dark room with three bright spotlights overhead. Inside, Giovanni questions the trio as to what Team Rocket's goals are. Jessie confirms that Team Rocket's goal is to locate and obtain strong Pokémon. James states that they additionally have a goal of obtaining rare Pokémon. Meowth states that their goal is to then use those captured Pokémon to take over the world.

Giovanni confirms that their answer is correct stating that their goal is to form the strongest Pokémon army and rule the world. Afterwards, Giovanni displays a map of the Unova Region and states that it is to become a new foothold in their plan to conquer the world. Giovanni states that he is therefor granting a mission to Team Rocket as infiltrating operatives to enter the Unova region by them selves.

Giovanni terminates the transmission and sits down in his chair as Persian brushes up against his leg. His secretary announces that they have gathered reports that an organization of unknown identity is operating in the Unova region. Giovanni responds stating that once Team Rocket acts, the organization will definitely start moving and reveal their identity.

Afterwards, Ash, Oak, and Delia, board a hydroplane and begin departure towards the Unova Region. The plane's giant motors thrust them into the air and they begin propelling towards a new region. Nearby, Team Rocket is seated four rows behind dressed in a black coat, hat, and sunglasses. Jessie states that she is surprised that they came across Ash on their flight to Unova. Meowth states that they will definitely succeed in capturing Pikachu this time. James confirms that their first objective in Unova Region will be to capture Pikachu.

Ash examines a small booklet, which features a map of the Unova Region and various activities that can be performed in the region such as dining or sightseeing. Ash states there will be a lot of species in which he has not yet seen. Oak confirms that he is indeed correct. Oak states that Unova is full of Pokémon, which don't appear in Kanto, Jouto, Houen, or Sinnoh. Ash giggles in joy at the thought of all the species in which he has not yet laid his eyes upon.

After a few moments, the plane shatters through the clouds and allows Ash to be able to lay his eyes upon the new region. The Unova control tower announces that Flight 151 from Kanto will soon reach its destination. The hydroplane begins it's decent and gracefully lands into the water and arrives at the dock. Ash exits from the plane stating that they've finally arrived.

Ash, Oak, and Delia begin walking towards town however Pikachu stands at the dock for a few moments. After realizing Pikachu has stopped following, Ash turns around and yells for Pikachu. Pikachu simply stares out in the ocean in an unresponsive state. After a few moments, a luminous cloud begins approaching town. Ash rushes up to Pikachu questioning Pikachu as to "What's the matter?" Pikachu continues staring into the distance unresponsive to Ash. After a few seconds, an Alomomola jumps out of the ocean. Ash states that it is a Pokémon that he hasn't seen before. Ash runs towards the end of the dock to manage to catch a glimpse of the new species.

As Ash speeds away, Team Rocket exits from the plane. Ash makes it to the end of the dock however the Alomomola is nowhere to be found. Ash questions if there are more of it around. The luminous cloud continues to approach the town and is surrounded in an electrical force. As Ash and Pikachu stare at the cloud, a mechanical arm thrusts through the air and captures Pikachu. Ash rushes toward Pikachu and attempts to break him free from his prison. Ash looks upward and Meowth is seen holding the claw mechanism and is attempting to reel in Pikachu. Ash shouts out questioning whom the mysterious individuals are. Jessie states that if he must ask who they are, the answer he will receive will be for the sake of tomorrow. After a few moments, the mysterious individuals throw off their disguises revealing to Ash that they are in fact, Team Rocket.

Ash shouts for Pikachu to use Thunderbolt. Pikachu's cheeks begin to build a current and after a few moments, Pikachu launches a devastating Thunderbolt. The electrical attack flows through the mechanical arm towards Meowth however Meowth manages to use a fan-shaped attachment to deflect the attack. James laughs at Ash's futile attempt and Jessie confirms that they never leave out anti-electricity measures. The thundercloud rapidly approaches town and soon engulfs the surrounding area of the shore. The lightning of the cloud begins to crackle which causes everyone nearby to look upward.

Pikachu's cheeks begin to spark uncontrollably and a wave of electricity thunders downward engulfing Team Rocket and shattering the mechanical arm. Inside of the control tower, all of the instrumentation begins to react to the electrical force from the thundercloud. Ash manages to wake up from the electrical force, which struck Team Rocket to find himself and Pikachu underneath the eye of the storm. Pikachu is entirely engulfed in an electrical force generated from the thundercloud. Inside of the cloud, Zekrom's silhouette can be seen. Pikachu launches a Thunderbolt attack into the cloud however it is deflected by Zekrom's massive energy. Ash soon comes to the realization that there is something inside of the thundercloud.

Meanwhile, a young girl and her Akew, are situated just outside town in a tree. The crackling of the lightning directs the two towards the disturbance in the sky. The girl states that there must be something exciting happening. Her Akew jumps into her hair and the two dash away towards the electrical disturbance. The girl, previously unknown to the audience, is known as Iris. Iris is a young girl and is one of the gym leaders of Opelucid City with a specialization in Dragon types. She adorns an outfit, which features the colors pink and tan. Her hair is violet and is large enough to house her prized Akew. Iris jumps down from the tree and grasps onto a vine swinging through a nearby forest towards the port town.

Delia and Oak rush towards Ash whom is in the center of the thundercloud. Pikachu's cheeks continue to spark and Ash questions if the thundercloud is generated by a Pokémon. Zekrom thunders up into the sky disappointing the cloud and releasing an electrical force, which strikes Ash and Pikachu. A few moments after Zekrom's disappearance, the equipment in the Control Tower returns to normal. A control tower staff member announces that the system has recovered and there are no abnormalities.

Ash manages to recover from Zekrom's electrical attack and stands up soon realizing that Pikachu was knocked unconscious from Zekrom's enormous energy. Ash brings Pikachu to his arms asking if he is ok. Pikachu confirms that he is fine with a short "Pika Pika" and Ash brings Pikachu to his arms shouting "Thank You". Oak and Delia run towards Ash questioning if he is all right. Oak questions if anything had happened to him. Ash looks down to Pikachu for confirmation however after a few moments, Pikachu's cheeks begin to spark uncontrollably again. After a few moments, Pikachu jumps onto Ash's shoulders as if nothing were wrong. Delia states that it was a very large thundercloud. Ash questions where the Pokémon (Zekrom) had disappeared to whom generated the thundercloud. Oak states that they were unable to see a Pokémon and it only appeared to be a thundercloud.

A woman's voice interrupts the group and shouts for Oak. Oak turns around and announces that it is Professor Juniper. Professor Juniper is a professor of Unova Region whom assists fledgling trainers in choosing their first Pokémon and starting their journey. Juniper has brown hair, adorns two earrings, which are diamond shaped, and a white blouse. Juniper apologizes for being so late in picking the three up. She states that there was a terrible flash of lightning and questions if they are all right. Oak confirms that they are fine and introduces the young woman to Ash and Delia as Juniper. Oak states that even at her young age, she's a very important person in Pokémon research in the Unova region.

Afterwards, the four enter a red vehicle and begin heading towards the laboratory. As the vehicle thrusts down the road, a group of Deerling can be seen in the distance. After sighting the vehicle, the deerling begin racing alongside the vehicle. After a few moments, a group of Pidove flies overhead the vehicle. A group of Patrat can also be seen further in the distance scurrying through the forest. Juniper asks Ash about what he thinks about the new region and if this is the first time for him seeing Unova's Pokémon species. Ash confirms that it is his first time as Pikachu cheeks begin sparking again. Delia notices that Pikachu's cheeks were emitting sparks earlier as well. Juniper states they should complete a check-up on Pikachu once they reach the laboratory.

Juniper states that Kanto Pokémon are rare in Unova and asks Oak if he will teach her about their species. Ash asks Juniper if Pikachu are rare in Unova. Juniper states that wild ones have not been sighted in Unova. Oak states that once they arrive at the laboratory, Ash would be able to meet other species that he has also never met before. The vehicle begins to make a sharp turn and a group of Swanna can be seen in the distance resting in a small lake. After a few moments, small groups of Swanna take flight.

Our heroes manage to arrive at Nuvema Town, home to Juniper's laboratory. A group of children run down a sidewalk and a Minccino chases afterwards in a cute fashion. Juniper announces that the laboratory is just ahead. The laboratory is a two level structure that contains a transmission tower and small greenhouse located off to the distance. Afterwards, Pikachu is connected to a diagnostic machine where multiple sensors are attached to its body. Juniper stares at a diagnostic screen examining Pikachu's data. Juniper confirms that although Ash stated that Pikachu was affected by a huge amount of electric energy, she does not see any abnormalities in Pikachu's data. After hearing Juniper's statement, Ash looks towards Pikachu in a joyous state, glad that there was no damage to Pikachu. Pikachu jumps up in excitement however Juniper states that Pikachu should stay still because there are multiple examinations that must still be completed. Ash states that Pikachu should have a little bit more patience however Pikachu looks down in disappointment.

After a few moments, a lab assistant enters the room and announces that a new trainer that will begin his journey has arrived. Juniper looks at the assistant in a surprised state realizing that it is already time for the trainer to arrive. Ash questions Juniper wondering about who the new trainer is. Oak states that Juniper has the duty to give new trainers of the Unova region their first Pokémon.

In the lobby of the laboratory, a young boy is seen taking pictures of the laboratory. He adorns blonde hair, a red blazer, tan pants, and black sneakers. Juniper shouts greeting the young boy as Trip carrying a small cart behind her. Trip greets Juniper and states that it is finally the day when he can begin his journey as a Pokémon Trainer. Juniper nods in confirmation that Trip has been waiting for the day for a very long time. Ash asks if Trip was unable to sleep due to being excited and thrilled over beginning his Pokémon Journey.

Trip stares at Ash questioning who he is. Juniper introduces Ash as a trainer from Pallet Town in the Kanto region. Ash states that it was nice to meet Trip. After a few moments, Trip begins laughing at the thought. Ash scolds Trip asking him what is so funny. Trip states that he was just thinking that Ash came from a hick town. Ash shouts out: "Hey! What do you mean, "hick town"". Juniper attempts to calm the two down stating that it is Trip's first day as a trainer and he should enjoy it. Juniper turns around and approaches the small cart that has three Pokeballs.

Juniper reaches for the first Pokeball and launches it into the sky releasing Tepig. Tepig explodes from the Pokeball in a glimmering light. Ash leans down and Tepig turns towards the end of the room shooting flames from his snout. Ash states that he is very energetic as a fire type. Next, Juniper extends her arm releasing Oshawott. Oshawott explodes from the Pokeball in a cute pose. Ash leans down towards Oshawott stating that he is quite cute. Trip stares at the two Pokémon in deep thought. Oshawott blushes at Ash's comment regarding its cuteness. Finally, Juniper releases the Grass type, Snivy. Snivy stands in a confident state with his arms extended at his hips. The three Pokémon race forward and form a short line. Ash states that it must be a very tough choice and all three look like they're worth raising. Trip shouts in an arrogant manner that is his choice regarding his starter. Ash states that if he had to choose, it would be very difficult. Trip reaches for his camera and begins taking pictures of the starter Pokémon. After a few moments, Trip states that he is decided and has chosen Snivy. Snivy looks upward in a confident state, as if to have already known the outcome. Tepig sighs in disbelief and Oshawott stands in a paralyzed state.

After Trip's confirmation, Juniper delivers the Pokémon Zukan (Pokedex) to Trip. Trip uses the device to query Snivy's data. The Zukan chirps stating: "Snivy, the grass snake Pokémon. It is always calm and does not get perturbed by anything. It uses its leaf tail for photosynthesis to produce energy." After a few moments, Juniper presents Trip with five Pokeballs, which can be used to capture and carry Pokémon inside. Juniper states that a trainer can have up to six Pokémon at one time. Trip grabs the small box of Pokeballs and is then presented with Snivy's Pokeball. Trip expands the Pokeball and recalls Snivy inside. Juniper wishes Trip luck with his studies as a trainer. Trip thanks Juniper and exits the laboratory. Ash follows Trip and shouts for him to wait. Ash questions Trip if he is going to complete Gym matches. Trip states that if Pokémon Trainers go from gym to gym and collect eight victory badges, they are allowed to challenge the Unova League. Ash states that it is the same as the Kanto region. Pikachu soon exits the lab and starts racing towards Ash. Ash questions Pikachu if the examinations are complete and Pikachu responds in confirmation.

Trip reaches for his Pokémon Zukan, having never seen a Kanto region Pokémon. The robotic voice of the Zukan states: "Pikachu, the Mouse Pokémon. The evolved form of Pichu. While raising its tail to check its surroundings, it occasionally gets struck by lightning." After querying his Zukan, Trip begins taking photos of Ash and Pikachu. Ash questions Trip what his intentions are. Trip states that it is an incident that a Pikachu is in the Unova region. Ash confirms that it is not an incident. Ash states that Pikachu is his number one partner. Trip questions if Pikachu is strong. Ash confirms Pikachu's Strength and questions if Trip would like to try out Snivy in a Pokémon Battle.

Trip launches his Pokeball into the sky releasing Snivy in a shimmering light. Trip continues taking pictures of Ash and Pikachu. Ash questions Trip why he continues to take photos. Trip responds that he is documenting his Pokémon journey because it is Snivy's first math. In the distance, Oshawott hides behind a tree watching the battle from a distance. Ash states that it is also his first battle in the Unova region as well. Pikachu shouts for Pikachu to use Quick Attack. Pikachu thunders forward in a flash and smashes into Snivy. Snivy is knocked backwards and manages to recapture his grip sliding alongside the soft terrain. Snivy dashes forward with an overpowering Tackle however Pikachu manages to dodge. Ash commands for Pikachu to launch Thunderbolt. Pikachu begins charging in preparation for the attack however becomes unable to launch the attack. Snivy manages to take advantage of the situation and tackles Pikachu, slamming him into the ground towards Ash. Ash commands for Pikachu to use Thunderbolt once more. Pikachu prepares to charge another attack however after a few moments, is still unable to launch a thunderbolt attack. In a confused state, Pikachu begins gasping for air unable to comprehend why he is unable to use Thunderbolt. Ash shouts at Pikachu asking what is wrong.

Trip questions Ash if he is actually taking the battle seriously. Ash directs for Pikachu to use Volt Tackle. Pikachu begins thundering towards Snivy in a furious speed however is unable to form an electrical force around himself to allow the usage of Volt Tackle. Ash stares at Pikachu in a confused state unable to understand why Pikachu is unable to use electrical attacks.

Trip shouts in an arrogant manner if this was part of Ash's strategy to command for moves that Pikachu actually cannot use. After coming to the realization that Pikachu is unable to use electrical attacks, Ash shouts for Pikachu to use Iron Tail, a non-electric attack. Pikachu's tail begins to shimmer and soon after, Pikachu flips forward slamming his tail into the group. Snivy manages to dodge the moment before Iron Tail slams into the ground. Trip shouts for Snivy to use Grass Mixer. Snivy begins spinning in a furious motion creating a tornado containing grass energy, which is originated from its tail. After the tornado is formed, Snivy spins his body rotating the tornado and capturing Pikachu inside. After capturing Pikachu, Snivy flips forward slamming Pikachu into the ground creating a plume of dust and debris. Ash moves his arms to shield himself from the debris and shouts out "Pikachu!"

A few moments afterwards, the dust settles and Pikachu is found in battered shape unable to move. Ash stares in shock and races to Pikachu's aid. Ash reaches down and grasps Pikachu in his arms. Trip states that the match has been decided and that for his first match, he worked quite well together with Snivy. Trip states that he is glad that he chose Snivy and recalls Snivy into his Pokeball. Trip shouts in an arrogant state that Ash should start from the basics. Ash rushes towards the laboratory to determine an answer as to why Pikachu is unable to use electric-based attacks. Pikachu is reattached to the diagnostic equipment and Ash questions Juniper about what is wrong with Pikachu. Juniper states that Pikachu has fallen into an overload state. Juniper states that Pikachu has taken in too much electric energy from the thundercloud and the lightning. Oak confirms that it is the reason why Pikachu didn't feel well and couldn't use its Electric attacks. Ash questions if Pikachu will ever be able to use Electric movies again.

After a few moments, a screen in the laboratory that displays Pikachu's vitals begins to flicker, similar to the event, which happened with the equipment in the control tower. Pikachu's body begins to emit an electrical force in reaction to Zekrom's approach. The thundercloud generated by Zekrom continues to approach the laboratory. Oak confirms that it is the same as the thundercloud that had previously affected the port.

Meanwhile, Iris and Akew examine the thundercloud in a nearby forest making their way towards the disturbance.

Afterwards, electrical energy from Zekrom strikes the laboratory's transmission tower which floods into Pikachu. The laboratory's diagnostic equipment powers off and Pikachu shouts out in pain. Juniper directs a lab assistant to restore the laboratory system. Juniper questions if the cloud could have been created by Zekrom, a Pokémon of legendary origin. Ash questions whom Zekrom is. Juniper states that Zekrom is a legend in the Unova region. Juniper states that the huge thundercloud is god's eye protecting people and Pokémon. Juniper announces that the numerous lightning bolts are referred to as hammers of judgment as well as pillars supporting the sky.

An immersive electrical force surrounds Pikachu's body. Pikachu continues to shout out in pain as the electricity engulfs its body.

Pikachu is suddenly afflicted with a strange phenomenon. Will Pikachu get its Electric moves back? The curtain on Ash and Pikachu's adventure rises with a storm!
Picture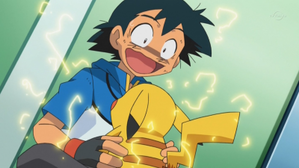 You must be signed in to rate episodes.
Average Rating:
9.03
VHS/DVD/Blu-ray Availability
Titles
| | | |
| --- | --- | --- |
| | 前往合眾地方!捷克羅姆的身影!! | 2011-01-28 |
| | I Zekrom's skygge! | 2012-03-10 |
| | test2 | 2011-02-25 |
| | In The Shadow of Zekrom! | 2011-02-12 |
| | Dans l'ombre de Zekrom! | 2011-02-23 |
| | Im Schatten von Zekrom! | 2011-05-01 |
| | All'ombra di Zekrom! | 2011-02-13 |
| | イッシュ地方へ!ゼクロムの影!! | 2010-09-23 |
| | Isshu-chihō e! Zekrom no kage!! | 2010-09-23 |
| | To the Isshu Region! The Shadow of Zekrom!! | 2010-09-23 |
| | 하나지방과 제크로무의 어두운 그림자! | 2011-05-16 |
| | I Zekroms skygge! | 2011-08-21 |
| | W cieniu Zekroma! | 2012-01-02 |
| | Na Sombra do Zekrom! | 2012-05-26 |
| | ¡Bajo la sombra de Zekrom! | 2011-07-29 |
| | ¡A la sombra de Zekrom! | 2012-03-17 |
| | I Zekroms skugga! | 2011-04-24 |
Credits
| | | | |
| --- | --- | --- | --- |
| | Animation Director | 志村泉 (Izumi Shimura) | |
| | Episode Director | 小山賢 (Masaru Koyama) | |
| | Screenplay | 冨岡淳広 (Atsuhiro Tomioka) | |
| | Storyboard | 須藤典彦 (Norihiko Sutō) | |
©2002-2020 PocketMonsters.net
Version 5.1778
Rendered in: 0.0147s Queries: 6
Pokémon, all assorted characters, images and audio are ©GAME FREAK, Nintendo, Creatures, TV Tokyo, ShoPro and The Pokémon Company.
All images, text and audio are used in an editorial context. No site content, information, translations, news, images or otherwise may be reposted to any website without expression permission from the staff.
Current logos by: Juno