»
Episode Guide
»Viewing Episode: ルチャブルとダークルチャブル! /Luchabull and Dark Luchabull!
19 Nov 2014 10:28 AM

Admin Staff


Joined:12 Jul 2007
Forum Posts:1058


An alternate-colored Luchabull makes its debut! Due to a misunderstanding Satoshi and the others end up causing the Ellade playing the main character in a play to get injured. Satoshi's Luchabull takes its place in the play!

Summary:

Satoshi and friends spot an alternate-colored Luchabull assaulting a Bulu. They attempt to help, but it turns out the two were just practicing a theater play. Not realizing this, Satoshi and the others not only disturb the practice, but also cause the Ellade playing the main character to get injured.

It won't be able to perform the play due to the injury... so Satoshi's Luchabull takes its place. However, the alternate-colored Luchabull and Satoshi's Luchabull start fighting, causing the practice to go pretty badly. Then, during the actual performance, the Rocket Gang get onto the stage and make a complete mess. Will the play eventually work out fine!?

Voice Cast:

Rica Matsumoto: Satoshi

Ikue Ohtani: Pikachu

Mayuki Makiguchi: Serena

Yuki Kaji: Citron

Mariya Ise: Eureka

Megumi Sato: Dedenne

Megumi Hayashibara: Musashi

Shinichiro Miki: Kojiro

Inuko Inuyama: Nyarth

Yuji Ueda: Sonansu

Kenta Miyake: Maaiika

Kensuke Sato: Dark Luchabull

Hitomi Nabatame: Bulu

Yuka Terasaki: Ellade

Tsuguo Mogami: Carl

Chinatsu Akasaki: Joy

Unsho Ishizuka: Narration

"Manon's Illustrated Mega Evolution Journal"

Mikako Komatsu: Manon

Yuka Terasaki: Harimaron

Kensuke Sato: Mega Yamirami

This post was last edited27 Nov 2014 05:30 AM byAdamant
Picture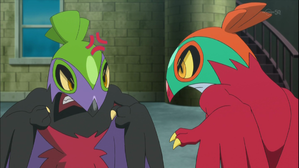 You must be signed in to rate episodes.
Average Rating:
VHS/DVD/Blu-ray Availability
Titles
| | | |
| --- | --- | --- |
| | Når lys og mørke støder sammen! | |
| | Als licht en donker botsen! | |
| | When Light and Dark Collide! | 2015-02-07 |
| | Kun valo ja pimeys kohtaavat! | |
| | Quand Sombre affronte Étincelant ! | 2015-05-01 |
| | Licht gegen Finsternis! | 2015-05-02 |
| | Quando luce e oscurità s'incontrano! | 2015-04-25 |
| | ルチャブルとダークルチャブル! | 2014-11-27 |
| | Luchabull to Dark Luchabull! | 2014-11-27 |
| | Luchabull and Dark Luchabull! | 2014-11-27 |
| | 루차불과 다크루차불! | 2015-03-24 |
| | Når lys og mørke støter sammen! | |
| | Quando Luz e Sombra Colidem! | 2015-12-21 |
| | Quando Luz e Sombra Colidem! | 2015-08-03 |
| | Когда свет и тень встречаются! | |
| | ¡Cuando colisionan la luz y la oscuridad! | 2015-09-16 |
| | ¡Cuando la luz y la oscuridad se enfrentan! | 2015-08-04 |
| | När ljus och mörker krockar! | 2015-04-29 |
Credits
| | | | |
| --- | --- | --- | --- |
| | Animation Director | 田島瑞穂 (MizuhoTajima) | |
| | Episode Director | 西田健一 (Ken'ichiNishida) | |
| | Screenplay | 武上純希 (JunkiTakegami) | |
| | Storyboard | 池添隆博 (TakahiroIkezoe) | |
| | Assistant Animation Director | 酒井裕未 (HiromiSakai) | |
| | Assistant Animation Director | 中矢利子 (ToshikoNakaya) | |
©2002-2020 PocketMonsters.net
Version 5.1779
Rendered in:0.01892s Queries:9
Pokémon, all assorted characters, images and audio are ©GAME FREAK, Nintendo, Creatures, TV Tokyo, ShoPro and The Pokémon Company.
All images, text and audio are used in an editorial context. No site content, information, translations, news, images or otherwise may be reposted to any website without expression permission from the staff.
Current logos by: Juno