Summary:
Megavolt (メガV) is the second opening for the Japanese version of Pocket Monsters XY. The song features singer Yusuke (遊助) and is the same song as the first opening but a different remix and verse lyrics.
A Mega Ring starts of the intro spinning as it moves forwards and various Mega Pokémon including in order: Mega Absol, Mega Gablias, Mega Lizardon's, Mega Fushigibana, Mega Kamex, Mega Burshamo, Mega Gengar and Mega Hassam are shown. The Mega Stones create a circle and spin around. The usual intro text is shown on the bottom of the screen: The mysterious creatures of this planet Pocket Monsters... "Pokémon" for short! (この星の不思議な生き物 ポケットモンスター・・・ ちぢめてポケモン!) Now the story of the encounters, adventures and battles of Satoshi and the Pokémon begins! (今、サトシとポケモンたちの出会いと冒険と戦いの物語がはじまる!)
Satoshi walking on a path in a forest throws a monster ball into the air and catches it as his friends look on in excitement and they continue running down the path. Rocket Gang is nearby and Musashi is looking at them in binoculars. Sonansu pops up and Kojiro and Musashi try to settle it down.
Serena is in the city and sees a poster for Carne's last movie as Carne in disguise and her Sirknight walk right by them. Corni and her Lucario are then seen sitting under a tree as she sucks a popsicle. Tierno, Sana and Trova are then seen together with their starters.
Satoshi is sitting in a meadow with a lantern at night as his Pokémon including his Luchabull and his Hinoyakoma, which are revealed for the first time in this opening, come to keep him company. Serena is then seen siting on a rock with a hair brush as Fokko jumps into her lap. Eureka is seen lying in bed as her Dedenne jumps around and then Citron is seen trying to put together his latest invention.
Carne then calls for her Sirknight to mega evolve as she begins a battle with Satoshi and Pikachu. It then quickly transitions to a battle with Corni and Mega Lucario against Satoshi and Froakie. The opening then finishes with Corni and Lucario running to meet Satoshi and friends.
Mega Ring Colors
The intro to the opening features a Mega Ring and the color changed depending on the episode.
| | |
| --- | --- |
| Black Mega Ring | XY029 through XY034 |
| Blue Mega Ring | XY024, XY035, XY043, XY045, XY047, XY049, XY052, XY054 |
| Red Mega Ring | XY036, XY042, XY044, XY046, XY048, XY050, XY051, XY053 |
Movie 17 Variant
To promote the
17th Pocket Monsters movie
debut in Japanese theaters, the opening segment was replaced with scenes from the movie from
XY 37
through
XY 41
. Reairings on BS Japan and Kids Station did not include these scenes and the normal Megavolt opening was used with different Mega Rings.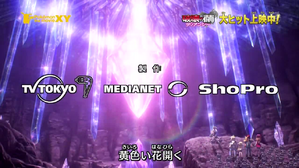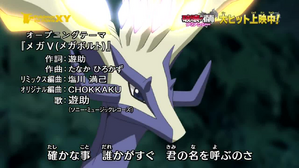 Serena Variant
As the
Corni
arc concluded, in
XY 45
, scenes featuring
Serena
were shown instead.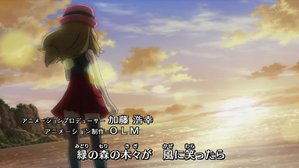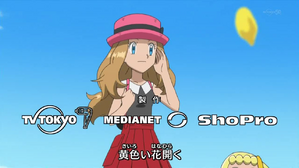 Episodes: