»
Episode Guide
»Viewing Episode: 衝撃ジガルデ対ジガルデ!壊れゆく世界!!/The Shocking Zygarde VS Zygarde! The Breaking World!!
24 Aug 2016 11:15 AM

Admin Staff


Joined:12 Jul 2007
Forum Posts:1066


Satoshi and the others have been captured by the Flare Gang. It appears Fleur-de-lis has a strong interest in Satoshi and Satoshi Gekkouga, but...? Meanwhile, Alan watches the panicked Miare City completely at a loss on what to do...

Summary:
Citron sets off to take back the Miare Gym, Serena sets off to rescue Manon's Hari-san, and Eureka sets off to follow Squishy. Squishy, on the other hand, has turned into its 50% Forme in order to stop the rampaging red Zygarde. But then the evil clutches of the Flare Gang sneak up on Squishy!

Voice Cast:
Rica Matsumoto: Satoshi
Ikue Ohtani: Pikachu
Mayuki Makiguchi: Serena
Yuki Kaji: Citron
Mariya Ise: Eureka
Megumi Sato: Dedenne
Megumi Hayashibara: Musashi
Shinichiro Miki: Kojiro
Inuko Inuyama: Nyarth
Kensho Ono: Alan
Mikako Komatsu: Manon
Hiroshi Tsuchida: Platane
Hideaki Tezuka: Fleur-de-lis
Tsuguo Mogami: Xerosicy
Fumiko Orikasa: Carne
Anri Katsu: Tierno
Minami Fujii: Trova
Yurie Kobori: Sana
Yuji Ueda: Gekkouga
Kensuke Sato: Lizardon
Kenta Miyake: Onvern
Kiyotaka Furushima: Fiarrow
Chinatsu Akasaki: Horubee
Hitomi Nabatame: Harimaron
Karin Nanami: Correa
Rinko Natsuhi: Akebi
Akane Fujita: Bara
Sayuri Hara: Momiji
Unsho Ishizuka: Narration
Picture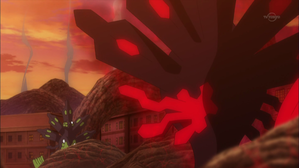 You must be signed in to rate episodes.
Average Rating:
9.00
VHS/DVD/Blu-ray Availability
Titles
| | | |
| --- | --- | --- |
| | Fra drøm til mareridt! | |
| | Uiteenlopende dromen! | |
| | Coming Apart at the Dreams! | 2016-11-19 |
| | Haaveet kaatuvat | |
| | Lorsque les rêves s'effondrent ! | 2016-12-07 |
| | Träume, die aus den Fugen geraten! | 2017-01-09 |
| | Sogni che dividono! | 2017-01-21 |
| | 衝撃ジガルデ対ジガルデ!壊れゆく世界!! | 2016-09-01 |
| | Shōgeki Zygarde tai Zygarde! Kowareyuku sekai!! | 2016-09-01 |
| | The Shocking Zygarde VS Zygarde! The Breaking World!! | 2016-09-01 |
| | 충격, 지가르데 VS 지가르데! 파괴되어 가는 세계!! | 2016-11-08 |
| | Revner i drømmene! | |
| | Afastando-se dos seus Sonhos! | |
| | Совершенно разные мечты! | |
| | ¡Destruyendo sueños! | 2017-04-01 |
| | ¡Sueños que se desmoronan! | 2017-03-23 |
| | Drömmar som spricker! | |
Credits
| | | | |
| --- | --- | --- | --- |
| | Assistant Executive Animation Director | 広岡歳仁 (ToshihitoHirooka) | |
| | Animation Director | 三股浩史 (HiroshiMimata) | |
| | Animation Director | 伊藤悠太 (YutaIto) | |
| | Animation Director | 板倉健 (KenItakura) | |
| | Episode Director | 佐々木勅嘉 (TadayoshiSasaki) | |
| | Screenplay | 冨岡淳広 (AtsuhiroTomioka) | |
| | Storyboard | 高橋知也 (TomoyaTakahashi) | |
| | Assistant Animation Director | 志村泉 (IzumiShimura) | |
| | Assistant Animation Director | 中矢利子 (ToshikoNakaya) | |
| | Assistant Animation Director | 山本真理子 (MarikoYamamoto) | |
©2002-2020 PocketMonsters.net
Version 5.1779
Rendered in:0.01796s Queries:9
Pokémon, all assorted characters, images and audio are ©GAME FREAK, Nintendo, Creatures, TV Tokyo, ShoPro and The Pokémon Company.
All images, text and audio are used in an editorial context. No site content, information, translations, news, images or otherwise may be reposted to any website without expression permission from the staff.
Current logos by: Juno