»
Episode Guide
» Viewing Episode: 決戦!VSレジアイス!!/Decisive Battle! VS Regice!!
31 Aug 2006 03:00 AM

Automated Bots


Joined: 31 Dec 1969
Forum Posts: 1359

11 Aug 2011 07:51 PM

Admin Staff


Joined: 18 Jun 2007
Forum Posts: 1713


What I personally think was the key that made this episode good was the tying in of the Battle Frontier song at the end of the battle. It really tied in the entire Battle Frontier arc unlike the English dub which had some rather boring music in comparison. The English dub could have just done Battle Frontier music without the lyrics to at least give the battle a lot more energy.

Link to edits:

http://www.pocketmonsters.net/episodes/466#Edits

Link to Music:

http://www.pocketmonsters.net/episodes/466#Music

Music Notes: 2:35 - Movie 2 music unreleased, 5:05 Movie 5 unreleased, 13:21 & 14:14 are the same track played twice but I'm not sure what it is. Let us know if you know what that track is.

This post was last edited 11 Aug 2011 07:52 PM by Sunain
17 Aug 2011 07:02 AM

Registered Users


Joined: 08 Feb 2011
Forum Posts: 336


Not to say this battle wasn't good, I still believe it could've been better (except Pikachu's fight against Regice, which was really nice), though I couldn't quite say what should've been improved... maybe a bit less predictable would've nailed it.

And I agree with you Sunain, the Battle Frontier music was a really good idea.

There's one thing I've been wondering, though... is whether they'll think back to that episode if one day they decide to end the series (or have Satoshi 'retire', though both scenarios are still highly unlikely at this point, and will remain so for still so many years).
Picture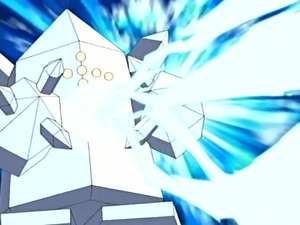 You must be signed in to rate episodes.
Average Rating:
8.20
VHS/DVD/Blu-ray Availability
Titles
| | | |
| --- | --- | --- |
| | 決戰!對抗雷吉艾斯!! | |
| | The Final Frontier - Kampen går løs | 2009-03-14 |
| | Grenzen Verleggen! | |
| | Pace - The Final Frontier | 2007-02-17 |
| | Dernière ligne droite | |
| | Alles auf eine Karte! | |
| | Un Incontro Decisivo | |
| | 決戦!VSレジアイス!! | 2006-08-31 |
| | Decisive Battle! VS Regice!! | 2006-08-31 |
| | The final frontier - kampen er i gang! | 2009-06-22 |
| | O Último Passo! | |
| | Passo - A Fronteira Final | 2008-01-19 |
| | ¡El Final Del Frente! | |
| | La Frontera Final | |
| | Det avgörande slaget! | 2009-05-23 |
Credits
| | | | |
| --- | --- | --- | --- |
| | Animation Director | 船津弘美 (Hiromi Funatsu) | |
| | Episode Director | 秦義人 (Yoshito Hata) | |
| | Screenplay | 米村正二 (Shōji Yonemura) | |
| | Storyboard | 入好さと (Satoru Iriyoshi) | |
©2002-2020 PocketMonsters.net
Version 5.1778
Rendered in: 0.02776s Queries: 9
Pokémon, all assorted characters, images and audio are ©GAME FREAK, Nintendo, Creatures, TV Tokyo, ShoPro and The Pokémon Company.
All images, text and audio are used in an editorial context. No site content, information, translations, news, images or otherwise may be reposted to any website without expression permission from the staff.
Current logos by: Juno