»
Episode Guide
» Viewing Episode: 決戦!VSレジアイス!!/Decisive Battle! VS Regice!!
Ash has challenged Brandon for the Brave Symbol once more, and things are not looking so good right off the start. Charizard has already been defeated by Brandon's Dusclops which is still looking very strong indeed. Ash next calls out his Bulbasaur and the Judge starts the match.

Meanwhile, outside, Team Rocket is scaling the wall of the Battle Pyramid, hoping to get inside and make some steals. Dusclops starts the battle off with a Shadow Punch. Ash says that since Bulbasaur can't dodge, it should take the attack head-on, and that is what Bulbasaur does. Bulbasaur attacks with Razor Leaf as Dusclops uses Mean Look. Dusclops then uses Shadow Punch while Bulbasaur uses Vine Whip. After being hit again with Vine Whip, Bulbasaur launches a Leech Seed which hits its target and begins its battle-long hit point drain.

Dusclops uses Will-O-Wisp and Bulbasaur counters with Razor Leaf. The attacks fizzle out as they hit each other. Dusclops takes more damage from the Leech Seed and uses Confuse Ray as Ash orders a Solarbeam. Confused, Bulbasaur fires the beam upwards and hits Team Rocket, who has managed to get inside now, sending them blasting off again. Brandon orders another Will-O-Wisp and it hits Bulbasaur head-on. Ash calls for a Vine Whip, but Bulbasaur hits itself in its confusion instead. Another Will-O-Wisp is fired from Dusclops and Bulbasaur is sent flying. Ash dives to catch it and holds on to it as it continues to hit itself with its vines.

Ash takes some of the hits from the vines as he explains to Bulbasaur all they've been through and how valuable it is. Bulbasaur snaps out of its confusion as Dusclops fires yet another Will-O-Wisp. Bulbasaur dodges it and launches a Solarbeam, knocking Dusclops out of the match.

Brandon next calls out his Ninjask which May looks up in her Pokédex. With Dusclops defeated, Bulbasaur is able to leave the battle now and is recalled for Squirtle to battle. Ninjask uses Aerial Ace to start off and Squirtle uses Rapid Spin to deflect it. Ninjask then creates a Sandstorm to knock Squirtle out of the air, followed by a Double Team. Squirtle uses Water Gun to destroy all the fakes and aims at the real Ninjask. Ninjask uses Aerial Ace and scores a direct hit. Squirtle retaliates with a Hydro Pump as Ninjask launches another Sandstorm. Both attacks fizzle out and Ninjask hits Squirtle with a Sand-Attack. Scott comments that Brandon's style is to fail with a big attack and score big with a little attack just like he's done, as Squirtle can't see any more.

Ninjask prepares to use Aerial Ace again, so Ash tells Squirtle to listen for Ninjask's wings and dodge it. It does, and flies into the air in a blind Hydro Pump. The water from the attack drenches Squirtle and clears its eyes of the sand. As Ninjask comes at Squirtle in another Aerial Ace, Squirtle uses Skull Bash to defeat it, giving Ash the lead. Recalling Ninjask, Brandon sends out a Solrock and May whips out her Pokédex.

Squirtle attempts to use Hydro Pump, but Solrock dodges and uses Psywave. Squirtle uses Skull Bash again but is stopped inches from Solrock by a Confusion attack and sent flying. Solrock launches a Shadow Ball, but Squirtle bounces off the wall with a Hydro Pump and it misses. Squirtle then attacks with Rapid Spin, but misses and hits the wall, falling to the ground. Solrock takes the opportunity to knock it out with Solarbeam.

Underground, Jessie complains while James and Meowth happily dig a tunnel to get underneath the Pyramid. Back on the battlefield, Ash sends out Bulbasaur for a return battle. Bulbasaur starts with its signature Razor Leaf as Solrock uses Psywave. Solrock stops the leaves with a Confusion and sends them back at Bulbasaur. Bulbasaur uses Vine Whip, but is thrown backwards with another Confusion. Bulbasaur kicks off the wall, however, and takes no damage. It then dodges a Shadow Ball and sends a Leech Seed to Solrock, who fires a Psywave at its attacker. The two fire Solarbeams at the exact same time and are both knocked unconscious by the blast.

Meanwhile, Team Rocket makes it to a dark room of the Pyramid, Jessie complaining about the lights not being on. Bright lights then appear and Registeel and Regirock appear. They use Lock On on Team Rocket and send them blasting off with Hyper Beams. Ash and Brandon, meanwhile, recall their Pokémon and Ash calls to Pikachu. Brandon sends out a Regice to combat the electric Pokémon and the battle begins. Pikachu immediately blasts Regice with a Thunderbolt but it does no damage at all. Regice uses Icy Wind to make the whole room freezing cold and launches an Ice Beam at Pikachu. Pikachu dodges the attack, but half the field is now frozen.

Regice uses Ice Beam again and freezes the other half of the field, making it easier for it to move around, while making it harder for Pikachu. Next, Brandon orders a Focus Punch and Regice moves in for the attack. Pikachu dodges it and shocks Regice into paralysis, hitting it with Iron Tail. Regice retaliates with Ice Beam, and surrounds Pikachu with giant pillars of ice, using the time Pikachu is trapped to use Rest. Pikachu breaks the ice and attacks just as Regice is waking up. With Pikachu so close to it, Regice uses Ice Beam and freezes Pikachu into a giant mound of ice. Ash calls to Pikachu and tells it that it has always pulled out the winning move as the Judge declares Pikachu unable to battle.

However, Pikachu busts the ice with a giant Thunderbolt and hits Regice at the same time, paralyzing it again. This doesn't faze Regice though, and it comes back with another Focus Punch. Pikachu flies like a pinball, crashing into each pillar of ice on the field and bouncing off the wall. Ash tells Pikachu to use two Iron Tails in a row and Pikachu pulls it off, using the speed of the punch as power. Regice uses Ice Beam and traps Pikachu in between pillars again and uses Rest. Pikachu uses Iron Tail and dashes at Regice in a Volt Tackle, hitting just as Regice is waking up. Regice is declared unable to battle, and Ash has become Master of the Battle Frontier. Ash and Brandon tell their Pokémon that they battled well and Brandon awards Ash the Brave Symbol.

As the sun sets on Fennel Valley once again, Scott awards Ash a plaque saying that he is a member of the Battle Frontier Hall of Fame. He offers Ash the position as a Frontier Brain but Ash declines, saying that there are too many places and people he still has to see. Scott accepts the decision and tells Ash that the position will be open should he change his mind. Saying their goodbyes, Professor Oak, Nurse Joy, Scott, Officer Jenny, Bulbasaur, Squirtle, and Charizard head back to their respective places of residence and a chapter in Ash's journey comes to a breathtaking close.
Picture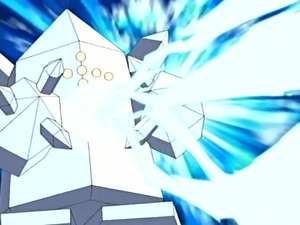 You must be signed in to rate episodes.
Average Rating:
8.20
VHS/DVD/Blu-ray Availability
Titles
| | | |
| --- | --- | --- |
| | 決戰!對抗雷吉艾斯!! | |
| | The Final Frontier - Kampen går løs | 2009-03-14 |
| | Grenzen Verleggen! | |
| | Pace - The Final Frontier | 2007-02-17 |
| | Dernière ligne droite | |
| | Alles auf eine Karte! | |
| | Un Incontro Decisivo | |
| | 決戦!VSレジアイス!! | 2006-08-31 |
| | Decisive Battle! VS Regice!! | 2006-08-31 |
| | The final frontier - kampen er i gang! | 2009-06-22 |
| | O Último Passo! | |
| | Passo - A Fronteira Final | 2008-01-19 |
| | ¡El Final Del Frente! | |
| | La Frontera Final | |
| | Det avgörande slaget! | 2009-05-23 |
Credits
| | | | |
| --- | --- | --- | --- |
| | Animation Director | 船津弘美 (Hiromi Funatsu) | |
| | Episode Director | 秦義人 (Yoshito Hata) | |
| | Screenplay | 米村正二 (Shōji Yonemura) | |
| | Storyboard | 入好さと (Satoru Iriyoshi) | |
©2002-2020 PocketMonsters.net
Version 5.1778
Rendered in: 0.01599s Queries: 6
Pokémon, all assorted characters, images and audio are ©GAME FREAK, Nintendo, Creatures, TV Tokyo, ShoPro and The Pokémon Company.
All images, text and audio are used in an editorial context. No site content, information, translations, news, images or otherwise may be reposted to any website without expression permission from the staff.
Current logos by: Juno