»
Episode Guide
» Viewing Episode: パワーバトル!アイリスVSヒカリ!!/Power Battle! Iris VS Hikari!!
23 Jul 2012 10:23 AM

Automated Bots


Joined: 31 Dec 1969
Forum Posts: 1349

15 Aug 2012 07:53 AM

Admin Staff


Joined: 12 Jul 2007
Forum Posts: 1011


Iris' Kairyu and Hikari's Kibago clash in the second round of the Pokémon World Tournament Junior Cup! Iris is getting impatient with Kairyu, who doesn't listen to her, and...!?

Summary:

"The 'Pokémon World Tournament Junior Cup' continues with fierce battles! Iris' Kairyu battles the Pokémon Coordinator Hikari's 'Twin Tusk Pokémon' Manmoo in the second round! In the first round, Iris was having a hard time forming a combination with Kairyu. And even though Kairyu was given instructions on how to start the battle off, this round doesn't seem to go the way Iris wanted it to either...!?

On the other side of the spectrum, Hikari and Manmoo work as a perfect combination. One move after another hits its target! How is this battle going to go!? Furthermore, Dent has his second battle with Shootie, following the one in the Don Battles! It's the 'Royal Pokémon' Jalorda VS Ishizumai! Dent performs a tasting as per the dignity and majesty of a gym leader, but then...!?"

Voice cast:

Rica Matsumoto: Satoshi

Ikue Ohtani: Pikachu

Mamoru Miyano: Dent

Aoi Yuki: Iris

Minami Tsuda: Kibago

Megumi Toyoguchi: Hikari

Etsuko Kozakura: Pochama

Shinichiro Miki: Iwapalace

Kenta Miyake: Waruvile

Kensuke Sato: Kairyu

Kiyotaka Furushima: Jalorda

Megumi Nakajima: Meloetta

Akeno Watanabe: Shootie

Tomo Sakurai: Shirona

Mitsuaki Madono: Takemitsu

Ikumi Hayama: Cabernet

Misato Fukuen: Langley

Yukiko Kikuchi: Marufuji

Koichi Bando: Hirokazu

Unsho Ishizuka: Narration

Addendum: Kiyotaka Furushima, who was absent from the original list, has been added.

This post was last edited 29 Aug 2012 06:38 PM by Adamant
18 Sep 2012 05:46 AM

Registered Users


Joined: 08 Feb 2011
Forum Posts: 336


It was an ok episode overall, though I hate how they rushed Dent's battle... actually, that's something really bothersome with this 'tournament' : it feels rushed. That, and the fact it's just yet another Don Tournament... without Don George. I was expecting longer and more intense battles, personally.

I'm curious to see how long it'll take Iris to have Kairyu obey her. Though I know what's going to happen in the next episode... damn people making the previews!

So far, I can't say I'm impressed by the Junior Cup. The episodes are fine, with some character development and all, but the battles themselves feel lackluster and rushed.
18 Sep 2012 12:08 PM

Admin Staff


Joined: 18 Jun 2007
Forum Posts: 1712


Quote From: Chance

It was an ok episode overall, though I hate how they rushed Dent's battle...

I thought all the battles were quite rushed. I wished they would have done at least 2 or 3 more episodes for the Junior Cup. All those K.O's of Shootie sped the tournament up 10 fold.
Picture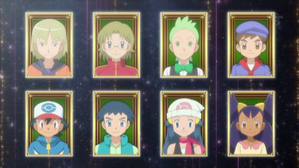 You must be signed in to rate episodes.
Average Rating:
8.75
VHS/DVD/Blu-ray Availability
Titles
| | | |
| --- | --- | --- |
| | 力量對戰!艾莉絲對小光!! | 2013-01-25 |
| | Battling Authority Once Again! | 2012-12-08 |
| | Un nouveau combat contre l'autorité! | 2013-01-23 |
| | Dragoran macht, was es will! | 2012-12-05 |
| | Iris e l'inarrestabile Dragonite! | 2012-12-31 |
| | パワーバトル!アイリスVSヒカリ!! | 2012-08-23 |
| | Power Battle! Iris VS Hikari!! | 2012-08-23 |
| | Power Battle! Iris VS Hikari!! | 2012-08-23 |
| | 힘과 힘의 대결! 아이리스 VS 빛나! | 2013-04-04 |
| | Continua a Luta Contra a Autoridade! | 2013-11-13 |
| | Concedida a Permissão para a Batalha! | 2013-11-07 |
| | ¡Combatiendo de nuevo contra la autoridad! | 2013-03-13 |
| | ¡Enfrentando a la autoridad una vez más! | 2013-11-07 |
| | I strid mot överheten igen! | 2013-11-03 |
Credits
| | | | |
| --- | --- | --- | --- |
| | Animation Director | 夏目久仁彦 (Kunihiko Natsume) | |
| | Episode Director | 古賀一臣 (Kazuomi Koga) | |
| | Screenplay | 米村正二 (Shōji Yonemura) | |
| | Storyboard | 古賀一臣 (Kazuomi Koga) | |
©2002-2020 PocketMonsters.net
Version 5.1778
Rendered in: 0.0179s Queries: 9
Pokémon, all assorted characters, images and audio are ©GAME FREAK, Nintendo, Creatures, TV Tokyo, ShoPro and The Pokémon Company.
All images, text and audio are used in an editorial context. No site content, information, translations, news, images or otherwise may be reposted to any website without expression permission from the staff.
Current logos by: Juno