»
Episode Guide
» Viewing Episode: ハクダンジム戦!華麗なるビビヨンの舞バトル!!/Hakudan Gym Match! The Elegant Vivillon's Dance Battling!!
29 Oct 2013 04:12 AM

Admin Staff


Joined: 12 Jul 2007
Forum Posts: 978


It's Satoshi's first Gym match in the Kalos Region! Viola, the Gym Leader of the Hakudan Gym, is a Bug Pokémon trainer! Facing great difficulty as they go up against the Scale Pokémon Vivillon, Satoshi and Pikachu decide to...

Summary:

Satoshi and his friends have arrived in Hakudan City. They immediately head to the Hakudan Gym for a Gym match, where they encounter Erikiteru and Pokémon Reporter Pansy, whom Satoshi traveled together with before. Pansy is the older sister of the Gym Leader Viola. And when Satoshi's Gym match with Viola finally starts, he ends up with a tough challenge on his hands.

Voice Cast:

Rica Matsumoto: Satoshi

Ikue Ohtani: Pikachu

Mayuki Makiguchi: Serena

Yuki Kaji: Citron

Mariya Ise: Eureka

Megumi Sato: Dedenne

Yuka Terasaki: Yayakoma

Megumi Hayashibara: Fokko

Chika Fujimura: Erikiteru

Kiyotaka Furushima: Onvern

Chinatsu Akasaki: Joy

Aya Endo: Pansy

Noriko Shitaya: Viola

Unsho Ishizuka: Narration

This post was last edited 29 Oct 2013 04:13 AM by Adamant
06 Dec 2013 09:58 PM

Registered Users


Joined: 13 Jul 2007
Forum Posts: 40


No more horsing around, here comes the first Gym match!
With some very interesting animation, similiar to Satoshi's battle in 1st XY episode.
Satoshi actually uses Pokémon with type advantage.
We also get a few moments of the Butterfree of Kalos region.
And as Satoshi battles, Serena finally arrives.
After the match, the episode continues in a logical way and Satoshi begins his training.
I am beginning to like Serena a lot. We'll see what the future will bring. Especially beginning of next episode.
Anyway, here it is a full score.

My rating:
A perfect episode with a nice battle, cameo of Pansy, and much more things.
I give it 10!

You would totally like to be a tree.
Picture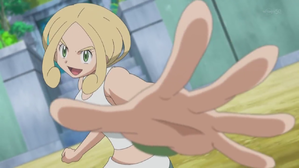 You must be signed in to rate episodes.
Average Rating:
7.50
VHS/DVD/Blu-ray Availability
Titles
| | | |
| --- | --- | --- |
| | A Blustery Santalune Gym Battle! | 2014-02-15 |
| | Le redoutable combat d'arène de Neuvartault! | 2014-05-05 |
| | Ein stürmischer Nouvaria-Arenakampf! | 2014-04-17 |
| | Una lotta da brivido alla Palestra di Novartopoli! | 2014-04-18 |
| | ハクダンジム戦!華麗なるビビヨンの舞バトル!! | 2013-11-07 |
| | Hakudan Gym sen! Kareinaru Vivillon no mai-battle!! | 2013-11-07 |
| | Hakudan Gym Match! The Elegant Vivillon's Dance Battling!! | 2013-11-07 |
| | 백단체육관 시합! 비비용의 화려한 춤 배틀! | 2014-03-17 |
| | Um Tempestuoso Combate de Ginásio em Santalune! | 2015-03-06 |
| | Uma Tempestuosa Batalha no Ginásio de Santalune! | 2015-03-06 |
| | ¡Un tempestuoso combate de gimnasio en Novarte! | 2014-05-17 |
| | ¡Una tempestuosa batalla de gimnasio en Santalune! | 2015-03-06 |
| | En stormig gym-strid i Santalune city! | 2014-05-04 |
Credits
| | | | |
| --- | --- | --- | --- |
| | Animation Director | 志村泉 (Izumi Shimura) | |
| | Episode Director | うえだしげる (Shigeru Ueda) | |
| | Screenplay | 藤田伸三 (Shinzō Fujita) | |
| | Storyboard | 池添隆博 (Takahiro Ikezoe) | |
©2002-2020 PocketMonsters.net
Version 5.1778
Rendered in: 0.01884s Queries: 9
Pokémon, all assorted characters, images and audio are ©GAME FREAK, Nintendo, Creatures, TV Tokyo, ShoPro and The Pokémon Company.
All images, text and audio are used in an editorial context. No site content, information, translations, news, images or otherwise may be reposted to any website without expression permission from the staff.
Current logos by: Juno