»
Episode Guide
» Viewing Episode: ミアレジム攻略!シトロンの秘密!!/Retake the Miare Gym! Citron's Secret!!
25 Nov 2013 03:58 PM

Admin Staff


Joined: 18 Jun 2007
Forum Posts: 1713


New episode title(s) has/have been added to the database. Title: XY 9: ミアレジム攻略!シトロンの秘密!! Retake the Miare Gym! Citron's Secret! The Beginning of the Dream and the Adventure!!. Please comment below!
Thanks, your friendly PM.Net AnimeBot!

Administrator of PocketMonsters.net
25 Nov 2013 05:42 PM

Admin Staff


Joined: 12 Jul 2007
Forum Posts: 1020


The destined Miare Gym, which threw Satoshi out... turns out to have Citron as its Gym Leader! And Citron is rousing himself to take his Gym back from "the Citroid", his own invention, which has taken it over!

Summary:

Satoshi and friends have returned to Miare City, where they run into Citron and Eureka's father Limone. Satoshi is told that Citron is really the Gym Leader of the Miare Gym, and that the Gym has been taken over by Citron's own invention, "the Citroid". In order to take the Gym back, Satoshi, Citron and the others sneak into the Miare Gym and challenge the Citroid to a Pokémon battle.

Voice Cast:

Rica Matsumoto: Satoshi

Ikue Ohtani: Pikachu

Mayuki Makiguchi: Serena

Yuki Kaji: Citron

Mariya Ise: Eureka

Megumi Sato: Dedenne

Yuji Ueda: Keromatsu

Megumi Hayashibara: Fokko

Chinatsu Akasaki: Horubee

Kiyotaka Furushima: Elezard

Kensuke Sato: Limone

Unsho Ishizuka: Narration

This post was last edited 05 Dec 2013 05:31 AM by Adamant
09 Dec 2013 04:28 PM

Registered Users


Joined: 13 Jul 2007
Forum Posts: 40


PokéLogic strikes again. During the past approximately 800 episodes the anime has taught us, how important it is for a trainer to be a friend of his Pokémon, to share the feelings, link their hearts, etc. And suddenly there is a computer being a Gym leader. All common sense lost.
In addition to this, the robot looks very lame.

Another thing that is hard to understand here is why the hell did Citron have to use a voice code and a battle to be able to reprogram the robot? They could have just ambushed the robot with several Pokemon at once, unplug its power source, erase memory, reprogram, and job done. It feels like the Japanese are somehow promoting an AI to the same level as a living real human. I think they will be very disappointed sooner or later.

And speaking of logic... How did someone like Citron become a Gym leader in the first place?

I am really not sure what to think about this episode. We did find out something important about Citrons past after all and the suspicion that was almost obvious (aside from the robot) since the first episode has been finally confirmed. And there was one of these battles with that different kind of animation. But still this episode was lacking something. And by something I don't mean Team Rocket. If they appeared in an episode like this, they would ruin it completely.

My rating:
It could be a full-blown episode, but the lack of logic and a completely lame-looking robot holds it back.
I give it 8.

You would totally like to be a tree.
Picture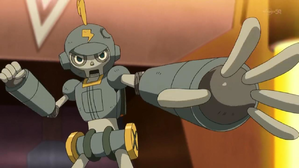 You must be signed in to rate episodes.
Average Rating:
9.00
VHS/DVD/Blu-ray Availability
Titles
| | | |
| --- | --- | --- |
| | Clemont's Got a Secret! | 2014-03-15 |
| | Le secret de Lem! | 2014-05-07 |
| | Citros Geheimnis! | 2014-05-01 |
| | Il Segreto di Lem! | 2014-04-22 |
| | ミアレジム攻略!シトロンの秘密!! | 2013-12-05 |
| | Miare Gym kōryaku! Citron no himitsu!! | 2013-12-05 |
| | Retake the Miare Gym! Citron's Secret!! | 2013-12-05 |
| | 미르체육관 공략! 시트론의 비밀! | 2014-03-24 |
| | Clemont Tem um Segredo! | 2015-03-12 |
| | Clemont Tem um Segredo! | 2015-03-12 |
| | ¡Lem tiene un secreto! | 2014-05-31 |
| | ¡Clemont tiene un secreto! | 2015-03-12 |
| | Clemont har en hemlighet! | 2014-06-01 |
Credits
| | | | |
| --- | --- | --- | --- |
| | Animation Director | 夏目久仁彦 (Kunihiko Natsume) | |
| | Episode Director | 古賀一臣 (Kazuomi Koga) | |
| | Screenplay | 米村正二 (Shōji Yonemura) | |
| | Storyboard | 古賀一臣 (Kazuomi Koga) | |
| | Assistant Animation Director | 岩根雅明 (Masaaki Iwane) | |
©2002-2020 PocketMonsters.net
Version 5.1778
Rendered in: 0.0178s Queries: 9
Pokémon, all assorted characters, images and audio are ©GAME FREAK, Nintendo, Creatures, TV Tokyo, ShoPro and The Pokémon Company.
All images, text and audio are used in an editorial context. No site content, information, translations, news, images or otherwise may be reposted to any website without expression permission from the staff.
Current logos by: Juno