»
Episode Guide
»Viewing Episode: 黄金のコイキングを釣り上げろ!!/Fish the Golden Koiking!!
02 Apr 2014 02:39 AM

Admin Staff


Joined:12 Jul 2007
Forum Posts:1056


At the Kojin Aquarium, Satoshi and friends meet the curator Louden and his Udeppou. The group then head out to fish in an attempt to catch a golden Koiking. How will this turn out?

Summary:

After arriving in Kojin Town, Satoshi and friends head to the Kojin Aquarium, where Water type Pokémon from many different regions have been assembled together. There, they meet the director, Louden, and his partner Udeppou. Louden tells them he dreams of fishing a "golden Koiking", and Satoshi and friends head off to go fishing in order to help him fulfill this dream. Citron invents a nice item for fishing the golden Koiking. Will they successfully manage to hook it!?

Rica Matsumoto: Satoshi

Ikue Ohtani: Pikachu

Mayuki Makiguchi: Serena

Yuki Kaji: Citron

Mariya Ise: Eureka

Megumi Sato: Dedenne

Megumi Hayashibara: Musashi

Shinichiro Miki: Kojiro

Inuko Inuyama: Nyarth

Yuji Ueda: Sonansu

Kenta Miyake: Maaiika

Kiyonobu Suzuki: Director

Yuu Shimamura: Reception Lady

Unsho Ishizuka: Narration

This post was last edited14 Apr 2014 09:51 PM byAdamant
15 Jun 2014 02:04 PM

Admin Staff


Joined:18 Jun 2007
Forum Posts:1719


ITV in the UK overtook CN in USA for this episode and as such the original air date of June 15th, 2014 is correct. Air dates for a language is for the first time it airs in any region.

https://www.itv.com/itvplayer/pokemon/series-18/episode-22-going-for-the-gold-

Administrator of PocketMonsters.net
Picture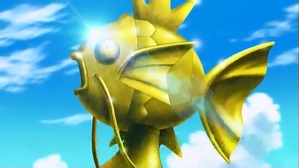 You must be signed in to rate episodes.
Average Rating:
5.00
VHS/DVD/Blu-ray Availability
Titles
| | | |
| --- | --- | --- |
| | Med kurs mod guldet! | |
| | Voor goud gaan! | |
| | Going for the Gold! | 2014-06-15 |
| | Kullan kimallusta! | |
| | La ruée vers l'or ! | 2014-06-20 |
| | Legende oder Wahrheit! | 2014-06-12 |
| | Corsa all'oro! | 2014-07-09 |
| | 黄金のコイキングを釣り上げろ!! | 2014-04-10 |
| | Ōgon no Koiking wo tsuriagero!! | 2014-04-10 |
| | Fish the Golden Koiking!! | 2014-04-10 |
| | 황금의 잉어킹을 낚아라! | 2014-04-22 |
| | Går for gullet! | |
| | Atrás do Ouro! | 2015-03-31 |
| | Atrás do Ouro! | |
| | В поисках золота! | |
| | ¡Tras el dorado! | 2014-07-13 |
| | ¡En busca del oro! | 2015-06-15 |
| | Jakten på guldet! | 2014-09-07 |
Credits
| | | | |
| --- | --- | --- | --- |
| | Animation Director | 堤舞 (MaiTsutsumi) | |
| | Episode Director | 西田健一 (Ken'ichiNishida) | |
| | Screenplay | 大橋志吉 (YukiyoshiŌhashi) | |
| | Storyboard | 西田健一 (Ken'ichiNishida) | |
©2002-2020 PocketMonsters.net
Version 5.1779
Rendered in:0.01849s Queries:9
Pokémon, all assorted characters, images and audio are ©GAME FREAK, Nintendo, Creatures, TV Tokyo, ShoPro and The Pokémon Company.
All images, text and audio are used in an editorial context. No site content, information, translations, news, images or otherwise may be reposted to any website without expression permission from the staff.
Current logos by: Juno