»
Episode Guide
» Viewing Episode: ペロッパフとペロリーム!!甘い戦いはあまくない!?/Peroppuff and Peroream!! A Sweet Fight Gets Anything But Sweet!?
24 Apr 2014 06:50 AM

Admin Staff


Joined: 12 Jul 2007
Forum Posts: 935


Serena treats the group to Pofflés. But then, Peroream and Millefeui show up, and Millefeui subs Serena's Pofflés by calling them "so-so". The two decide to settle things in a Pofflé Contest.

Summary:

As the group continues their journey, Serena treats Fokko, Pikachu and the other Pokémon to hand-made "Pofflés", a special type of sweet made specifically for Pokémon. But then, the "Whipped Pokémon" Peroream and its Trainer Millefeui appear, and "greet" the group by immediately snubbing Serena's Pofflés, calling them merely so-so. Naturally, sparks start flying between Serena and Millefeui, and they decide to settle things in the "Pofflé Contest" that is about to be held in the town they're in.

Voice Cast:

Rica Matsumoto: Satoshi

Ikue Ohtani: Pikachu

Mayuki Makiguchi: Serena

Yuki Kaji: Citron

Mariya Ise: Eureka

Megumi Sato: Dedenne

Megumi Hayashibara: Musashi

Shinichiro Miki: Kojiro

Inuko Inuyama: Nyarth

Yuji Ueda: Sonansu

Hitomi Nabatame: Harimaron

Chinatsu Akasaki: Peroppuff

Yuko Mizutani: Monarque

Saori Hayashi: Millefeui

Unsho Ishizuka: Narration

This post was last edited 08 May 2014 09:18 AM by Adamant
Picture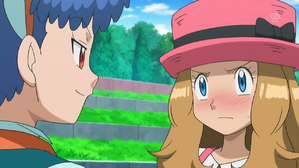 You must be signed in to rate episodes.
Average Rating:
8.00
VHS/DVD/Blu-ray Availability
Titles
| | | |
| --- | --- | --- |
| | A Battle by Any Other Name! | 2014-06-28 |
| | Un tout autre genre de combat! | 2014-09-05 |
| | Kampf auf süßer Ebene! | 2014-08-28 |
| | Lottar m'è dolce! | 2014-09-08 |
| | ペロッパフとペロリーム!!甘い戦いはあまくない!? | 2014-05-08 |
| | Peroppuff to Peroream!! Amai tatakai wa amakunai!? | 2014-05-08 |
| | Peroppuff and Peroream!! A Sweet Fight Gets Anything But Sweet!? | 2014-05-08 |
| | 나룸퍼프와 나루림!! 달콤한 싸움은 달콤하지 않다!? | 2014-09-22 |
| | Um Combate Muito Doce! | 2015-04-03 |
| | Um Doce de Batalha! | 2015-04-03 |
| | ¡El combate más dulce! | 2014-11-09 |
| | ¡Una batalla con cualquier otro nombre! | 2015-04-03 |
| | En strid under ett annat namn! | 2014-09-28 |
Credits
| | | | |
| --- | --- | --- | --- |
| | Animation Director | 夏目久仁彦 (Kunihiko Natsume) | |
| | Episode Director | 西田健一 (Ken'ichi Nishida) | |
| | Screenplay | 園田英樹 (Hideki Sonoda) | |
| | Storyboard | 樋口香里 (Kaori Higuchi) | |
| | Voice Actor | 上田祐司 (Yuji Ueda) | ポフレコンテストのアナウンサー |
| | Voice Actor | 松本梨香 (Rica Matsumoto) | サトシ |
| | Voice Actor | 大谷育江 (Ikue Ohtani) | ピカチュウ |
| | Voice Actor | 牧口真幸 (Mayuki Makiguchi) | セレナ |
| | Voice Actor | 伊瀬茉莉也 (Mariya Ise) | ユリーカ |
| | Voice Actor | 梶裕貴 (Yuki Kaji) | シトロン |
| | Voice Actor | 佐藤めぐみ (Megumi Sato) | シトロンのデデンネ |
| | Voice Actor | 三木眞一郎 (Shinichiro Miki) | コジロウ |
| | Voice Actor | 犬山イヌコ (Inuko Inuyama) | ニャース |
| | Voice Actor | 上田祐司 (Yuji Ueda) | ソーナンス |
| | Voice Actor | 生天目仁美 (Hitomi Nabatame) | シトロンのハリマロン |
| | Voice Actor | 水谷優子 (Yuko Mizutani) | モナーク |
| | Voice Actor | 赤﨑千夏 (Chinatsu Akasaki) | ミルフィのペロリーム |
| | Voice Actor | 林沙織 (Saori Hayashi) | ミルフィ |
| | Voice Actor | 石塚運昇 (Unshō Ishizuka) | |
| | Voice Actor | 林原めぐみ (Megumi Hayashibara) | ムサシ |
©2002-2019 PocketMonsters.net
Version 5.1778
Rendered in: 0.0553s Queries: 9
Pokémon, all assorted characters, images and audio are ©GAME FREAK, Nintendo, Creatures, TV Tokyo, ShoPro and The Pokémon Company.
All images, text and audio are used in an editorial context. No site content, information, translations, news, images or otherwise may be reposted to any website without expression permission from the staff.
Current logos by: Juno