»
Episode Guide
» Viewing Episode: ケロマツVSヤヤコマ! 空中機動バトル!!/Keromatsu VS Yayakoma! Air Assault Battle!!
16 Oct 2013 02:22 PM

Admin Staff


Joined: 12 Jul 2007
Forum Posts: 1031


For some reason, the Keromatsu that followed after Satoshi ends up battling the Flying type Yayakoma! Yayakoma flies freely around in the air, but Keromatsu comes up with a secret plan to counter this movement, and...?

Summary:
Having registered for the Kalos League at the Pokémon Center, Satoshi sets out to find his first Gym. On the way, he encounter a Pokémon called Dedenne. Dedenne appears to want some fruit, but when it is given some, the fruit is immediately stolen from it by a Pokémon called Yayakoma.
24 Oct 2013 06:35 AM

Admin Staff


Joined: 12 Jul 2007
Forum Posts: 1031


Voice Cast:
Rica Matsumoto: Satoshi
Ikue Ohtani: Pikachu
Mayuki Makiguchi: Serena
Yuki Kaji: Citron
Mariya Ise: Eureka
Megumi Hayashibara: Musashi
Shinichiro Miki: Kojiro
Inuko Inuyama: Nyarth
Yuji Ueda: Sonansu
Yuka Terasaki: Yayakoma
Megumi Sato: Dedenne
Kiyotaka Furushima: Rotom
Hitomi Nabatame: Serena's Mom
Chinatsu Akasaki: Joy
Hiroshi Tsuchida: Professor Platane
Kenta Miyake: Sakaki
Unsho Ishizuka: Narration
05 Dec 2013 07:21 PM

Registered Users


Joined: 13 Jul 2007
Forum Posts: 40


The beginnings are always good and eventful.
Kojiro gets a Pokémon, Eureka almost gets a Dedenne, Satoshi gets a Yayakoma.
This episode was something that could be the definition of a gold standard of a Pokémon episode.
Meeting new Pokémon, trying to catch them (That's what you do in the games all the time. In the anime it happens very rarely), battling... And not having to deal with Team Rocket.

The animation is not so much movie-like here but that would be beyond miracle if actually stayed that way for the whole anime. It is stll by far superior over average episodes of the past. I hope the standard set in this episode will be kept or surpassed.

Also, Keromatsu gets to present his ninja skills here. It is definitely a very good fighter. Also, we get to know a bit more about its personality.

And Satoshi really seems more mature here. He even came up with a good strategy.

My rating:
A perfect episode that works after the hype-inducing first two episodes are over. It sets some kind of standard for regular future episodes. If the future episodes follow this example, everything should be fine.
I give it 10 for not disappointing in any way (Remember the third of BW being almost a filler?)

You would totally like to be a tree.
Picture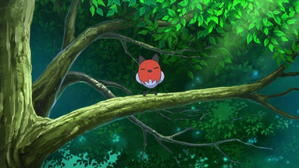 You must be signed in to rate episodes.
Average Rating:
8.50
VHS/DVD/Blu-ray Availability
Titles
| | | |
| --- | --- | --- |
| | A Battle of Aerial Mobility! | 2014-02-01 |
| | Un combat de mobilité aérienne! | 2014-05-02 |
| | Ein Kampf der Lüfte! | 2014-04-10 |
| | Una Lotta Aerea! | 2014-04-16 |
| | ケロマツVSヤヤコマ! 空中機動バトル!! | 2013-10-24 |
| | Keromatsu VS Yayakoma! Kūchū kidō battle!! | 2013-10-24 |
| | Keromatsu VS Yayakoma! Air Assault Battle!! | 2013-10-24 |
| | 개구마르 VS 화살꼬빈! 공중기동 배틀! | 2014-03-11 |
| | Um Combate de Mobilidade Aérea! | 2015-03-04 |
| | Uma Batalha de Mobilidade Aérea! | 2015-03-04 |
| | ¡Un combate de movilidad aérea! | 2014-05-10 |
| | ¡Una batalla de movilidad aérea! | 2015-03-04 |
| | En rörlig luftstrid! | 2014-04-13 |
Credits
| | | | |
| --- | --- | --- | --- |
| | Animation Director | 小山知洋 (Tomohiro Koyama) | |
| | Animation Director | 緒方厚 (Atsushi Ogata) | |
| | Episode Director | 西田健一 (Ken'ichi Nishida) | |
| | Screenplay | 冨岡淳広 (Atsuhiro Tomioka) | |
| | Storyboard | 外山草 (So Toyama) | |
| | Assistant Animation Director | 堤舞 (Mai Tsutsumi) | |
| | Assistant Animation Director | 松永香苗 (Kanae Matsunaga) | |
©2002-2020 PocketMonsters.net
Version 5.1779
Rendered in: 0.01868s Queries: 9
Pokémon, all assorted characters, images and audio are ©GAME FREAK, Nintendo, Creatures, TV Tokyo, ShoPro and The Pokémon Company.
All images, text and audio are used in an editorial context. No site content, information, translations, news, images or otherwise may be reposted to any website without expression permission from the staff.
Current logos by: Juno