»
Episode Guide
»Viewing Episode: サトシVSハルカ!ラストバトル!!/Satoshi VS Haruka! Last Battle!!
Eyecatch
Pre-episode Message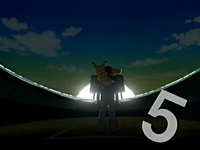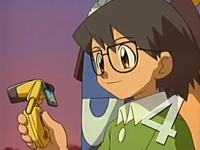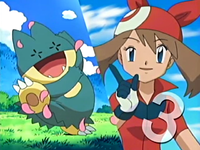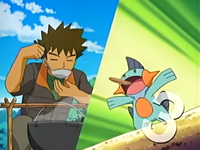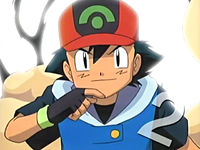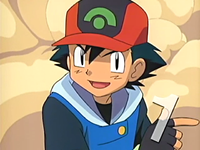 Eyecatch
Rayquaza Eyecatch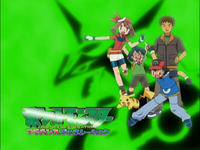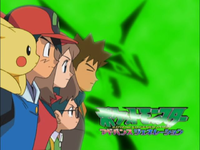 Special First-Airing Segment
Diamond and Pearl Full-Force Scoop
In this installment of the "Diamond & Pearl Full-Force Scoop", the (still) unofficial Diamond & Pearl Campaign Boys, Robert, show off some secret clips of the new Pocket Monsters Diamond & Pearl anime that's set to start September 28th.

Like the games, the anime is set in the "Sinnoh Region". And of course, starter Pokémon are given out by professor Nanakamado. The first of these Pokémon is the Grass type, the Tiny Leaf Pokémon, Naetle. Next is the Water type, the Penguin Pokémon Pochama, and finally the Fire type, the Chimp Pokémon Hikozaru!

Robert concludes the corner by saying the final episode will be airing next week, along with the final installment of the Diamond & Pearl Full-Force Scoop segment. In that installment, they'll be providing exclusive news on the new Pocket Monsters Diamond & Pearl anime series.

Akiyama mentions that he'd choose the Burly Pokémon, Nanakamado, as his starter, and Yamamoto agrees that it is a pretty cool one, before catching himself and saying how that's the professor.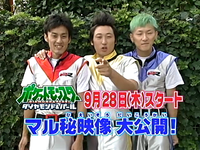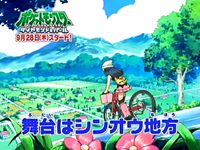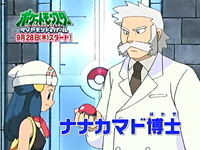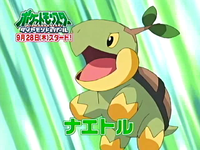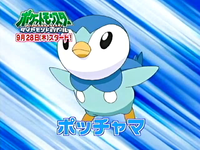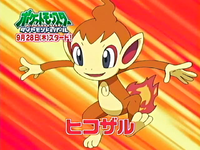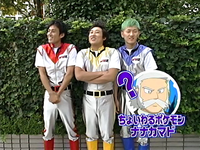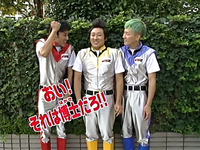 Picture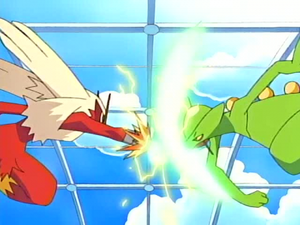 You must be signed in to rate episodes.
Average Rating:
8.26
VHS/DVD/Blu-ray Availability
Titles
| | | |
| --- | --- | --- |
| | 小智VS小遙!最終的對戰!! | |
| | Små giganters sammenstød! | 2009-03-21 |
| | Nog één Keer met Gejoel | |
| | Once More with Reeling | 2007-02-24 |
| | Täydeltä laidalta | |
| | Coordinateur surprise | |
| | Wer nichts hat, kann nichts verlieren! | |
| | Una partenza da rimandare | |
| | サトシVSハルカ!ラストバトル!! | 2006-09-07 |
| | Satoshi VS Haruka! Last Battle!! | 2006-09-07 |
| | En følsom seier! | 2009-06-22 |
| | Mais uma Vez com Garra! | |
| | Mais Uma Vez Cambaleando | 2008-01-26 |
| | Неожиданная битва | |
| | ¡Un día más de emociones! | |
| | Una vez más en suspenso | |
| | Vem har vunnit?! | 2009-05-30 |
Credits
| | | | |
| --- | --- | --- | --- |
| | Animation Director | 志村泉 (IzumiShimura) | |
| | Episode Director | 渡辺正彦 (MasahikoWatanabe) | |
| | Screenplay | 武上純希 (JunkiTakegami) | |
| | Storyboard | 川田武範 (TakenoriKawada) | |
©2002-2020 PocketMonsters.net
Version 5.1779
Rendered in:0.01816s Queries:7
Pokémon, all assorted characters, images and audio are ©GAME FREAK, Nintendo, Creatures, TV Tokyo, ShoPro and The Pokémon Company.
All images, text and audio are used in an editorial context. No site content, information, translations, news, images or otherwise may be reposted to any website without expression permission from the staff.
Current logos by: Juno