»
Episode Guide
»Viewing Episode: 終わりなきゼロ!また逢う日まで!!/A Zero With No End! Till the Day we Meet Again!!
19 Oct 2016 11:13 AM

Admin Staff


Joined:12 Jul 2007
Forum Posts:1054


The series finally reaches its finale. The day for Satoshi and Pikachu, and for Serena, to set off from the Kalos Region has arrived. Satoshi and his friends each walk off down a new road for the sake of their respective dreams.

Summary:
The day to say goodbye has finally come, and at the airport, Satoshi and his friends swear to definitely meet again one day. But when it is almost time to board the plane, Dedenne runs away. Dedenne is still little and it seems it doesn't want to separate from the others... What is it that Eureka tells Dedenne? And while that is going on, Citron suggests having a Pokémon battle with Satoshi...

Voice Cast:
Rica Matsumoto: Satoshi
Ikue Ohtani: Pikachu
Mayuki Makiguchi: Serena
Yuki Kaji: Citron
Mariya Ise: Eureka
Megumi Sato: Dedenne
Megumi Hayashibara: Musashi
Shinichiro Miki: Kojiro
Inuko Inuyama: Nyarth
Yuji Ueda: Sonansu
Kensho Ono: Alan
Mikako Komatsu: Manon
Hiroshi Tsuchida: Platane
Masami Toyoshima: Hanako
Kiyotaka Furushima: Fiarrow
Kenta Miyake: Onvern
Noriko Shitaya: Yancham
Mika Kanai: Nymphia
Hitomi Nabatame: Harimaron
Chinatsu Akasaki: Horubee
Kensuke Sato: Rentorar
Miyako Ito: Pumpjin
Yuka Terasaki: Hari-san
Unsho Ishizuka: Narration
Picture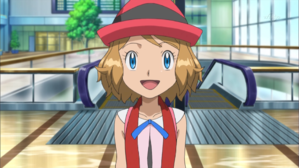 You must be signed in to rate episodes.
Average Rating:
8.00
VHS/DVD/Blu-ray Availability
Titles
| | | |
| --- | --- | --- |
| | Til vi dyster igen! | |
| | Totdat we het weer tegen elkaar opnemen! | |
| | Till We Compete Again! | 2017-01-21 |
| | Kunnes taas kilpailemme! | |
| | Au revoir.... Jusqu'au prochain combat ! | 2017-02-09 |
| | Was für eine wunderbare Zeit! | 2017-03-04 |
| | Alla prossima! | 2017-02-21 |
| | 終わりなきゼロ!また逢う日まで!! | 2016-10-27 |
| | Owarinaki zero! Mata au hi made!! | 2016-10-27 |
| | A Zero With No End! Till the Day we Meet Again!! | 2016-10-27 |
| | 끝나지 않은 제로! 다시 만날 그날까지! | 2016-12-06 |
| | Til vi konkurrerer igjen! | |
| | Até competirmos de novo! | |
| | До новых состязаний! | |
| | ¡Hasta que volvamos a competir! | 2017-04-01 |
| | ¡Hasta competir otra vez! | 2017-05-17 |
| | Tills vi tävlar igen! | |
Credits
| | | | |
| --- | --- | --- | --- |
| | Animation Director | 大橋藍人 (AitoŌhashi) | |
| | Animation Director | 小山知洋 (TomohiroKoyama) | |
| | Animation Director | 広岡歳仁 (ToshihitoHirooka) | |
| | Episode Director | 矢嶋哲生 (TetsuoYajima) | |
| | Screenplay | 冨岡淳広 (AtsuhiroTomioka) | |
| | Storyboard | 矢嶋哲生 (TetsuoYajima) | |
©2002-2020 PocketMonsters.net
Version 5.1779
Rendered in:0.0233s Queries:9
Pokémon, all assorted characters, images and audio are ©GAME FREAK, Nintendo, Creatures, TV Tokyo, ShoPro and The Pokémon Company.
All images, text and audio are used in an editorial context. No site content, information, translations, news, images or otherwise may be reposted to any website without expression permission from the staff.
Current logos by: Juno